The Best Things to do in NYC
Let's Explore New York City
First-time in New York? 10th time? Avid New Yorker? The city has always something new and adventurous to offer to all visitors and even locals. The city is the capital of culture, history, adventures, attractions, and FUN! So much to do and see, but this also means that you might get "lost" trying to find what you really want to do in the Big Apple especially if you don't have lots of time at your disposal. This is a City Guide created to list some of the most popular attractions, monuments, museums, etc., with some tips and general info that hopefully can help you better prioritize your time around the Big Apple.
How to choose the best things to do in NYC
Did you know that we are actually headquartered in NYC?! It's where it all began for us. Our home, our office, our start. We even have a dedicated website to New York City (www.newyorkwelcome.net) where we list all our experiences, exclusive tours along with a very extensive City Guide.
New York City: Good To Know
As you may already know
NYC encompasses 5 distinct Boroughs:
Manhattan (
the island in the middle,
) The Bronx (
North,
) Brooklyn (
to the East,
) Queens (
neighboring Brooklyn on the North side,
) and Staten Island (
to the South.
) Think of the boroughs like small counties and each one has countless neighborhoods that are almost small villages.
Each neighborhood has its own identity and peculiarities
. There are those neighborhoods known for their cuisine, for their residential look, for their business hubs, for their high-end boutiques, etc. The city expends for
over 302 square miles
so you can imagine you have lots of territory to cover and lots to choose from.
Few general things that you might find useful:

We are on the East Coast so we follow the Eastern Times (Standard and Daylight Saving)
Public Transportation runs 24/7. It includes underground subway lines, elevated subway lines, local buses, express buses, and even 1 Tramway to Roosevelt Island. The cost per ride is $2.75 - unlimited weekly and monthly passes are also available,.
The NYC Ferry ($2.75) is a great alternative to moving around along the East River.
Yellow Cabs are either in abundance or all occupied (especially when it rains.) Alternatively, you can use Uber, Lyft, Via, and other similar apps.
You can always find something open that serves food - Deli, 27/7 Diners, Restaurants open all day long ...You won't go famished!
It's good to make reservations in advance. This applies to tours & experiences, museums, attractions, restaurants, shows, etc.
High Seasons to visit the city are during Christmas & the Holiday festivities, late Spring, and early Fall. Prices tend to be higher.
3 airports are serving the city: JFK and LGA in New York and Newark (EWR) in New Jersey.
Have some specific questions or doubts?
Reach out and we would love to help you plan your stay in New York City!
Neighborhoods in New York
As we mentioned above, there are
lots of neighborhoods to choose from
when you are planning your stay in NYC. Things you might want to ask yourself are -
Do I want more of a residential vibe or commercial?
Do I want to be in Manhattan (usually more expensive) or I'm okay to be further away but save some money?
Do I want to be surrounded by Skyscrapers or I rather have a small-town look?
These are
just a few questions
that might help you narrow down your choices. Also as with everything, Budget will play a big factor.
COMMERCIAL AREAS: Midtown and Financial District (Manhattan,) Downtown Brooklyn (Brooklyn,) Queensboro Bridge Area (Queens.)
RESIDENTIAL AREAS: Upper West, Upper East, The Villages, Harlem (Manhattan,) Brooklyn Heights, Carrol Gardens, Park Slope (Brooklyn,) Astoria, Long Island City (Queens.)
These are just a few neighborhoods that we are listing here. And even areas such as "
Midtown in Manhattan
" can be
so vast that you will find both commercial zones and residential zones.
Midtown is very commercial towards 6th Ave, 5th Ave, Park Ave but you might find Murray Hill (East Side in the 30s) and Hell's Kitchen (West Side in the 40/50s) to be more residential with lots of eateries and bars. The best thing
if you are "new" to New York is to reach out and have somebody that actually knows the city help you pick the right location based on your needs.
This not only will improve your overall stay and experience in NYC but might also save you some money!
If you are interested in
reading more about each Neighborhood
, you can check our Neighborhood
City Guide on our sister-website New York Welcome.

The TOP Events & Festivities in New York
The city has events and festivals throughout the year. Let's start with the most popular. If you are visiting NYC during one of these Holidays or Festivals, you will have even more things than usual to do!
The Holiday Season
Generally from the first week of December to the end of the month, NYC is in decked out with all sorts of Christmas Decorations. The famous Christmas Trees all around NYC, amongsts others, we point out the popular Rockefeller, Bryant Park, and Wall Street trees. The Holiday Windows such as Saks 5th Ave and Macy's will entertain children and adults alike. Several Holiday Markets (Union Square and Bryant Park the most popular,) Holiday Shows such as the Rockettes at Radio City Hall and a Christmas Carol on Broadway and much more. Plus, you need to carve some time to visit the residential neighborhood of Dyker Heights in Brooklyn to see some of the most over-the-top Christmas decorations you will have see. Bottom Line: Prices might be higher, availability might run low especially on weekends, must book well in advance, be ready for Big Crowds.
New Year's Eve
NYE completes the Holiday Season with one more Big Party. The Times Square Ball Drop is probably the most followed event in the entire world drawing over 1 MILLION attendees in the Square along with millions tuning in from all over. However, NYC offers lots of different parties. First of all, for those that don't mind spending the big bucks, many restaurants around Times Square will offer a Live Viewing of the Ball Drop with Dinner and Entertainment (be ready to pay up for this option!) Alternatively, elegant Yachts offer Gala Dinner Cruises with prime viewing of the Fireworks in the bay, lots of Nightclubs with dance parties and Jazz Clubs with Live Music Shows. You even have a Midnight Run in Central Park with Fireworks. There is something for everyone and every budget. Bottom Line: For those that want the Big Party, don't mind spending extra for the Hotels, love a Big Crowd, and want to combine the NYE celebrations with some Holiday vibes. Book well in advance.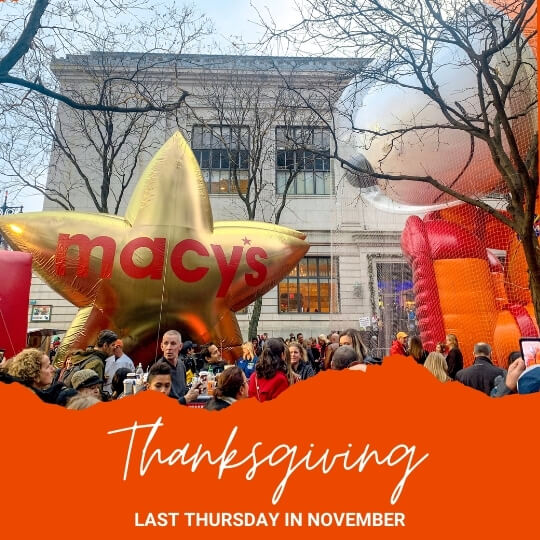 Thanksgiving
We have all seen the one and only Macy's Thanksgiving Parade. If not live then tuned in while we usually prep for our big turkey dinner. The giant balloons floating down Central Park West and 6th Avenue to reach Macy's is quintessential Thanksgiving morning. One thing that might surprise you is that because a lot of New Yorkers actually are away for that last weekend of November, the city won't be overcrowded. Yes, tourists and visitors are coming in, but it still a great time to visit the city especially if you don't like big crowds. Black Friday is also "observed" in the city with both department stores and smaller boutiques offering incentives and you can even decide to take the bus and go to the popular Woodbury Common Premium Outlet if you want to find even better deals. But the main reason to come to NYC would be to see Live the Macy's Parade. Bottom Line: Average or slightly above-average prices. The main attraction will be the parade.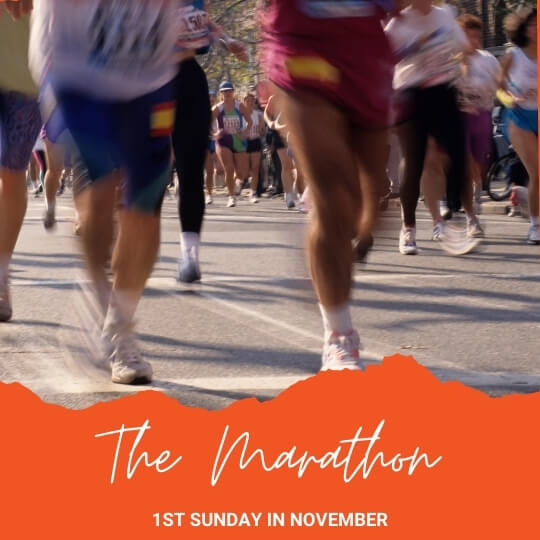 The Marathon
One of the most followed Marathons in the world. Over 55,000 people from all over come to participate. The first Sunday in November usually brings mild to chilly temperatures (depending on the year) and it's also around the time when the Foliage will color the city especially Central Park. If you or somebody traveling with you is running the Marathon, it is a great idea to combine the big race with a weekend exploring the city. Bottom Line: For those that are actually running the Marathon, the price might be slightly above average as lots of people come from different states and countries. Better to reserve in advance. If you are not running, then come the following weekend and save money.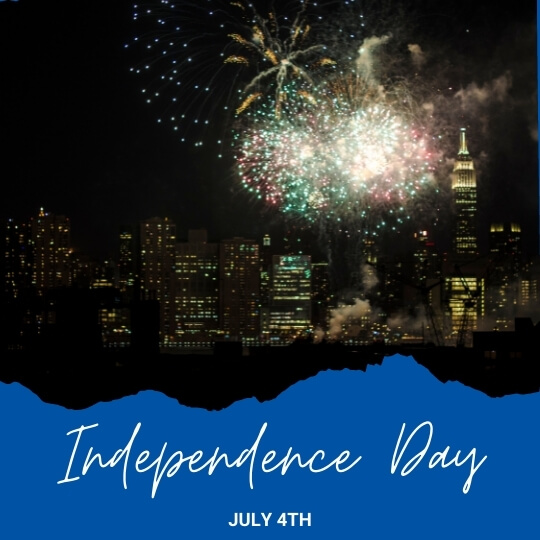 Independence Day
For Independence Day, NYC usually schedules several events from the popular Hot Dog eating contest in Coney Island to the Fireworks along the East River. The reason to come to NYC during the July 4th festivities is the Macy's Fireworks adorning the Manhattan Skyline. The best way to enjoy the fireworks is usually aboard one of the Yachts sailing the bay (they offer live entertainment and elegant dinners) or maybe a party at one of the Rooftops or Restaurants that have a direct view of the Fireworks. If you don't want to spend money, you can try one of city parks but arrive hours in advance. Bottom Line: July tends to be hot and humid in the city. Hotel prices are average but the 4th of July Party will cost you and requires advance reservation.
Halloween
The incredible Halloween Parade along 6th Ave in the West Village is known all around the US and even internationally. Thousands of spectators flock to 6th Ave to enjoy this big "block party" and thousands of people dressed in every type of costume walk the parade. This is a parade where anybody that is dressed up can participate. It's also a great time to explore the city with the temperature cooling down but not too cold and the leaves beginning to turn. Plazas, storefronts, and homes are decorated with pumpkins, spider nets, giant witch hats, skeletons, etc. Popular Nightclubs and Rooftops will organize parties as well. Bottom Line: a great time to come to enjoy the city in the Fall, see some foliage, and party. Prices might be slightly above average and you might have to make reservations in advance.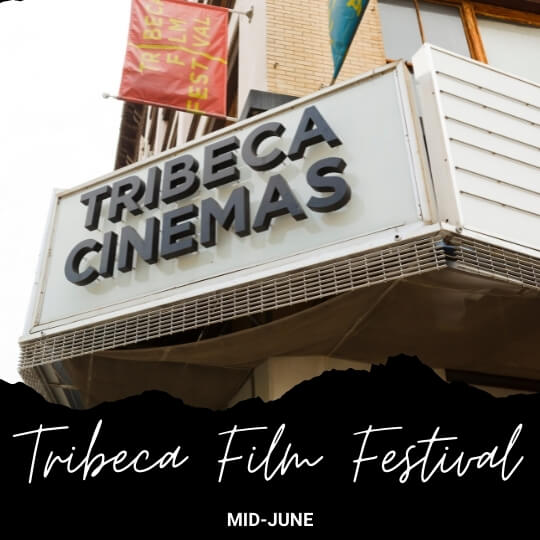 Tribeca Film Festival
The festival was created by Robert De Niro himself in 2002 as a way to bring NYC back to life with live cultural events from the terrorist attacks of 9/11. It's a festival that has become increasingly popular with spectators and critics that has now a well-established role in the Film Festival Season. If you are passionate about movies and want to watch a Movie Premiere, maybe with the cast in the auditorium, this is definitely something for you. Similar to the Cannes, Toronto, and Venice Film Festivals. Not only several new movies are presented but the city will have lots of parties and events to complete the Festival. Bottom Line: If you want to see a movie being released, listen to panels with the cast or simply want to experience a Film Festival atmosphere. Prices are above average and you should book in advance.
Fashion Week
If you love fashion and your dream is to sit and watch live one of the catwalks, well, NYC Fashion Weeks is one of the most renowned along with Milan and Paris. Usually, during this time there are several parties some more exclusive than others. Unless you are invited to the shows, it will cost you a pretty penny buying the tickets to access these Fashion Shows and some of the most coveted ones will only allow invitees. Nevertheless, this is an incredible time to visit the city all ready for Summer, with lots of Rooftops and activities to do and the temperatures are (usually) not yet scorching hot. Bottom Line: You really need to love Fashion Week and make sure you can secure either an invite or a ticket to get access. Prices tend to be higher than average, sometimes restaurants and rooftops might get shut down for private parties. Recommended to book in advance.
Restaurant Week
If you are a culinary connoisseur and a food lover you might want to consider planning your next vacay in NYC around Restaurant Week. The city sponsors 2 restaurant weeks one in the Winter and one in the Summer. They usually last around 2 or 3 weeks each (depending on the year) and hundreds of restaurants participate across the 5 boroughs -- even Michelin-starred restaurants! For many, this is the time to try expensive places that might otherwise be unreachable but that during this special occasion offer prix-fixe meals for $26 (two-course lunch) and $42 (three-course dinner.) You honestly can't beat that! Bottom Line: Say that you want to explore NYC through its food (which is amazing and diverse) you will be able to try several places while saving a pretty penny! If you don't mind the cold, you can come in the Winter and you will probably also find a great deal with your Hotel.
TOP-9 Attractions in New York City
It's hard to select "only 9" attractions when it comes to NYC but here below we are listing 9 of the most popular ones. Those that at least once you should visit.
Statue of Liberty
The quintessential image of NYC & the US. One of the most visited attractions that will give you interesting historical facts as well as incredible views of the Bay and the City Skyline. You must board on the Statue Ferry from Battery Park or New Jersey to reach Liberty Island. The Ticket includes access to the grounds and the museum, and you can also add the option to visit the pedestal or the crown (based on availability.) Since the Ferry will stop at both Liberty and Ellis Island it is recommended to take half a day and visit both at the same time.
Times Square
The most "famous" square in the World is actually not a square. It's an intersection where Broadway cuts through 7th Ave forming this wide X. This is an area went from being the city's Red Light District plagued by prostitution & drug rings with the highest crime rate to one of the most expensive commercial square mile. Classified as a "tourist trap" by New Yorkers, and no actual NYorker lives here, you should go at least once so you can see the over-the-top lights and billboards. Tip: go enjoy a Broadway Musical and on your way out stop at the red Steps to take in the view.
Brooklyn Bridge
Sometimes it's hard to imagine that this suspension bridge was built between 1870 and 1883. A True NY Icon. You can take a Walking Tour to discover all the fun facts or if you decide to go on your own, you should at least make sure to walk the Bridge from Brooklyn to Manhattan for the best views. The Brooklyn Bridge is accessible by pedestrians and bikers in front of City Hall (Manhattan side,) and Brooklyn Heights/Fulton Lending (Brooklyn side.) Approx. 1.5 miles, it will take you 35 to 45 minutes to walk it leisurely at a slow pace.
Central Park
Hard to believe that this oasis in the middle of Manhattan is completely men-made. Yes, the park is the product of 15+ years of construction and over 1.8 million tons of debris removal. The park offers a great green refuge to all NYers & visitors alike. Open from 6 AM to 1 AM. Several attractions to visit are found within the park limits including popular bridges (i.e. Bow Bridge and Gapstow Bridge) and statues (i.e. Alice in Wonderland and Balto,) the Delacorte Theater, a Belvedere Castle, and hundreds of paths to walk, bike, and jog. You should dedicate at the very least half a day to the park.
9/11 Memorial
The 9/11 Memorial is free to visit and features the two pools, built right where the twin towers once stood (exact same dimensions) bearing the names of all those we lost during the terrorist attacks in 2001. You can decide to visit the Memorial alone or along with the Museum for a more complete visit. If you are walking around the memorial make sure to stop by the Survivor Tree (the tree that survived the attacks) and see if you spot a white rose next to a name. White Roses are placed to commemorate those we lost on their birthdays.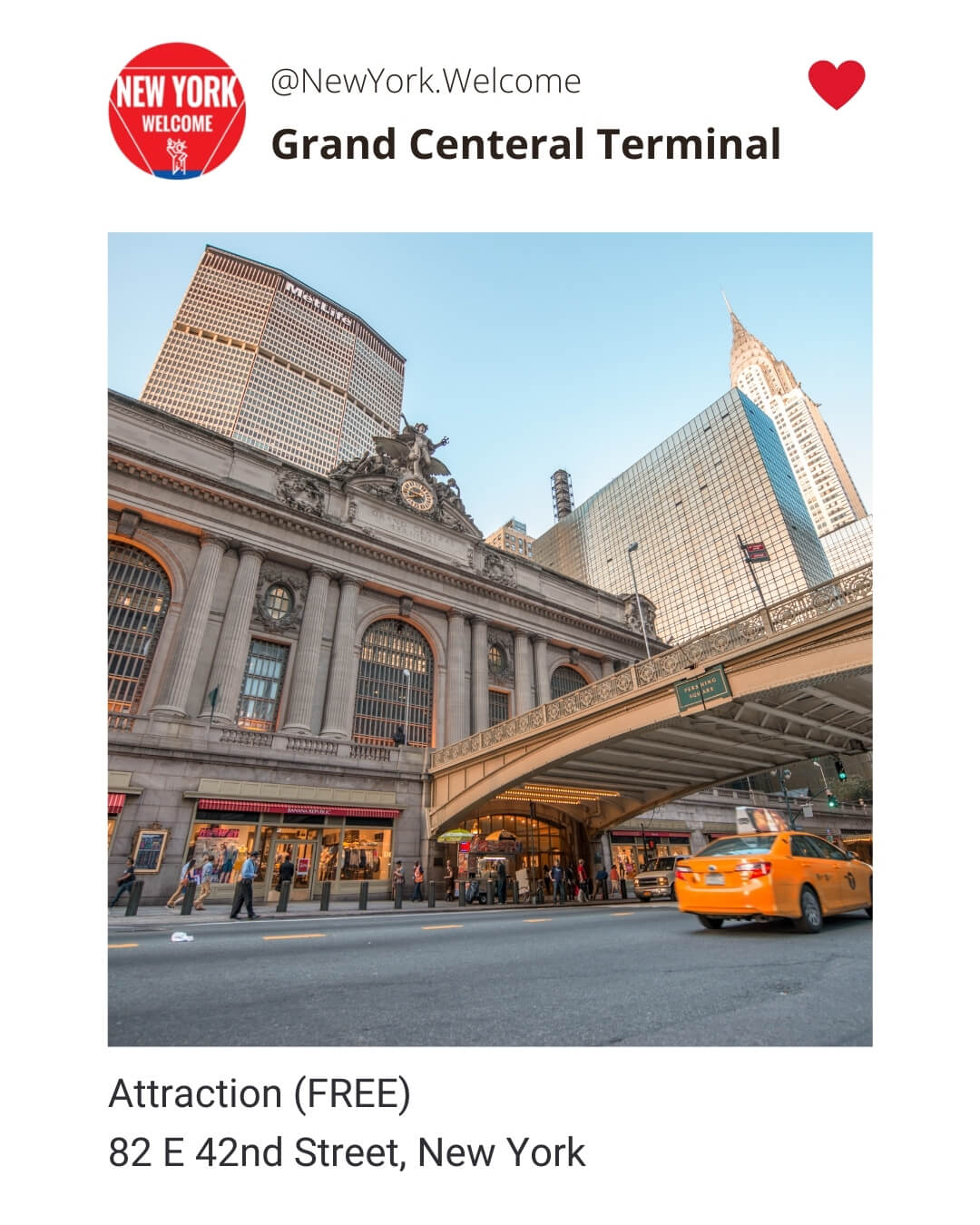 Grand Central Terminal
The historic train depot is found on 42nd Street and Park Avenue is adorned by golden chandeliers and marble. So many anecdotes and fun facts can be found in this Terminal. When you visit make sure to check out the "starry ceiling" on the main floor where you will see a blue-painted sky with golden constellations, then walk down to the sub-level to have some fun while trying the "whispering arches". The Terminal offers a food court with several food options including Shake Shack, public bathrooms, stores, and a market. Here you can find the Metro-North trains and multiple Subway lines.
NY Public Library
The iconic library is one of the best-kept-secret in NYC. It has been used as a movie and tv setting countless times (including Sex & The City and the Day after Tomorrow) for its elegant architecture, marble staircase, chandeliers, wooden details, paintings, and more. Free to visit, make sure to go to the 3rd floor and take a peek at the Main Reading Room from the iconic ceilings to the hundreds of books on display, this room will mesmerize you.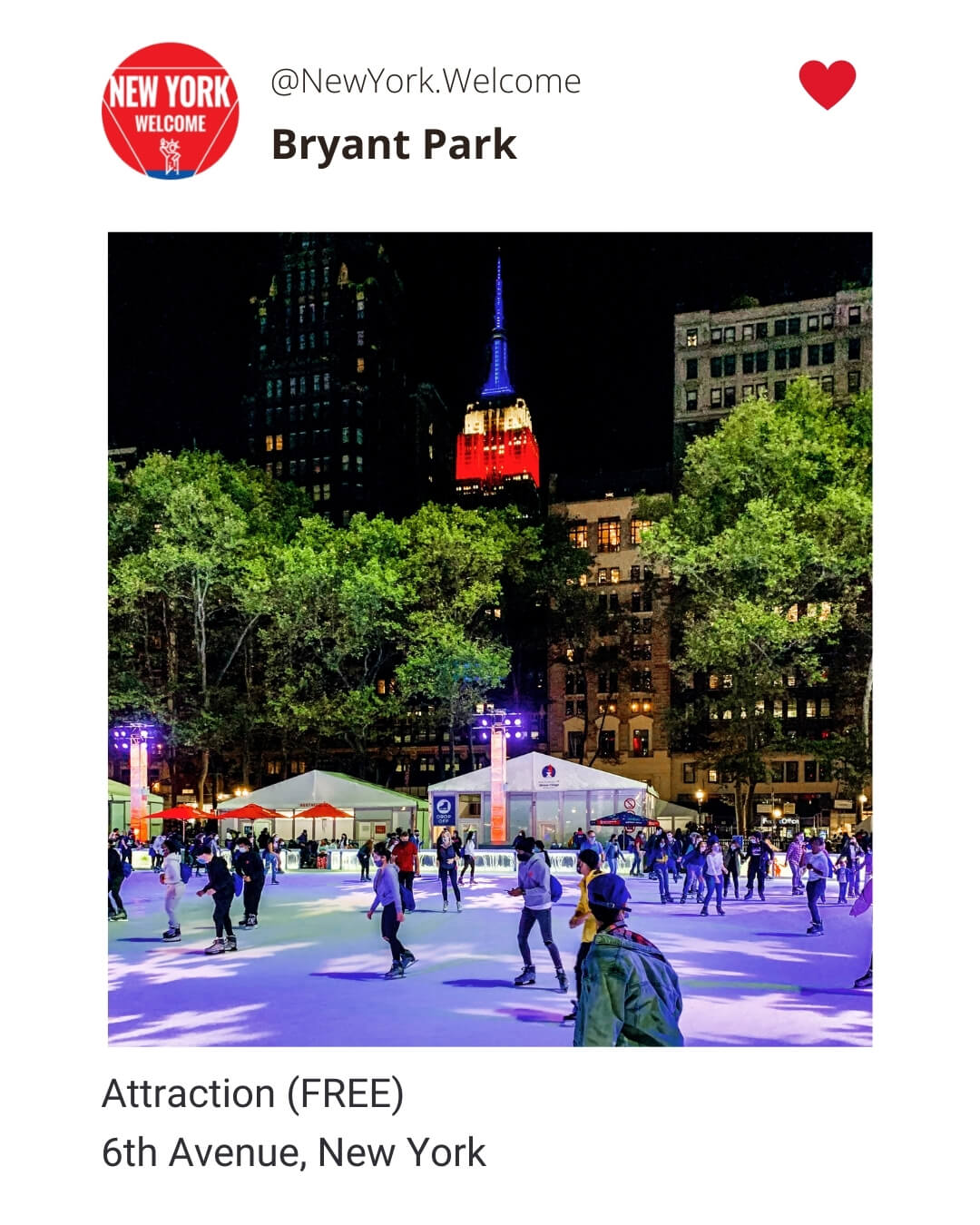 Bryant Park
Former water reservoir, today, the park offers a great "green escape" to the many nearby office buildings. The park is also known for its super-packed event calendar from Movie Nights & Broadway Shows in the Summer to the Winter Village with Ice-skating rink and the Holiday Market in the Winter, book clubs, painting lessons, yoga classes & much more. Most of the events are free but require pre-registration. Known to have the cleanest Public Restrooms.
St. Patrick's
The most iconic Catholic Church in New York City. Every day between 7 and 11 masses are held here. It is the house of the NYC Catholic Archdioceses and one of the most prominent examples of Gothic architecture in the city. Whether you come and visit during St Patrick's Day, Easter Sunday, or The Holiday Season when the Church hosts Holiday concerts and special Masses, or any other day of the year, make sure to take some time to visit the church inside.
TOP-6 Museums in New York City
New York City has many Museums you can visit covering from Modern Art to Natural History. You can spend two to three weeks in the city just visiting museums. Let's see the 6 most popular ones.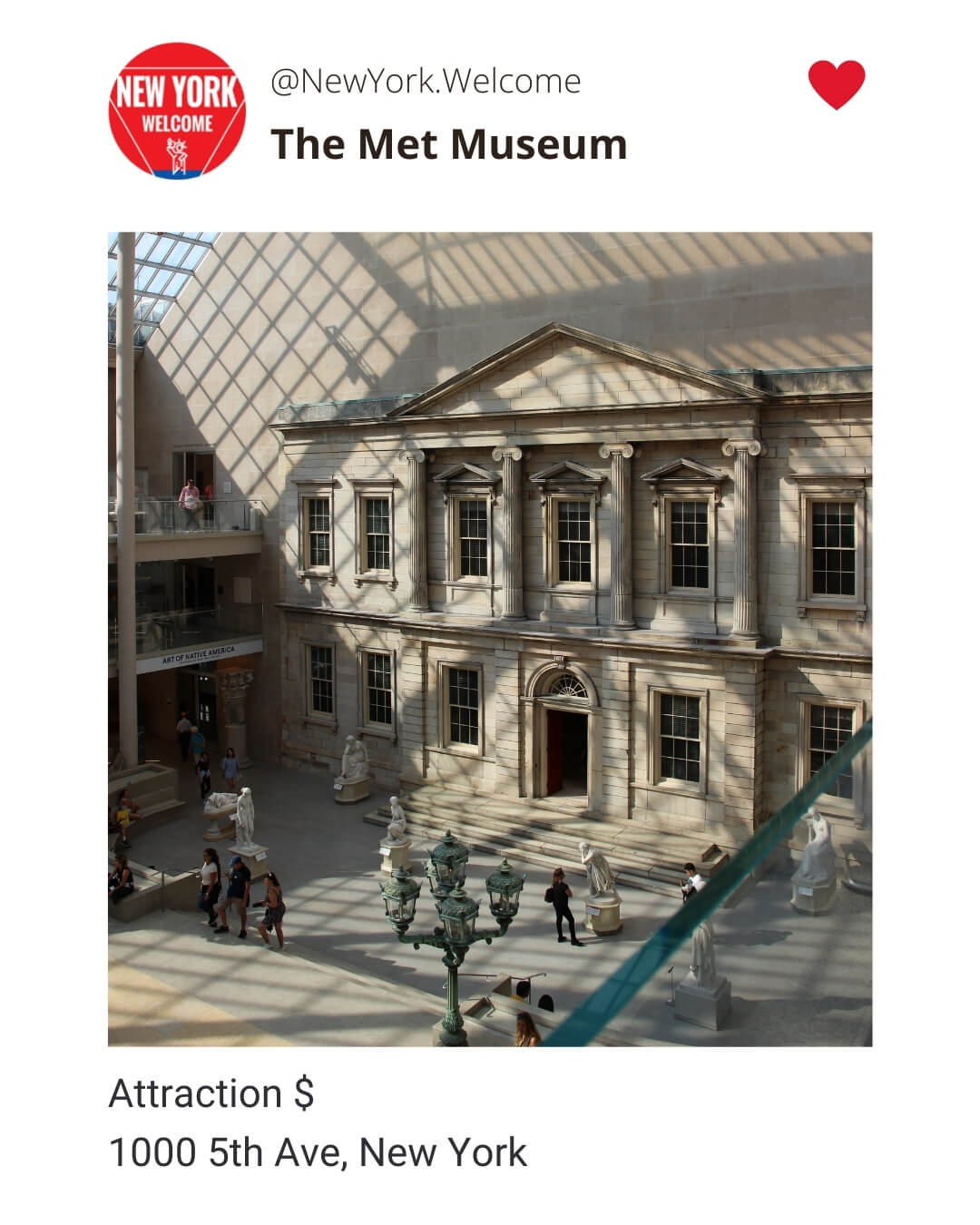 Metropolitan Museum
More than two million works of art and 5000 years of art from across the globe are on display here. The most popular collections include The Egyptian Wing, The American Wing, and The European Painters Wing. Price: $25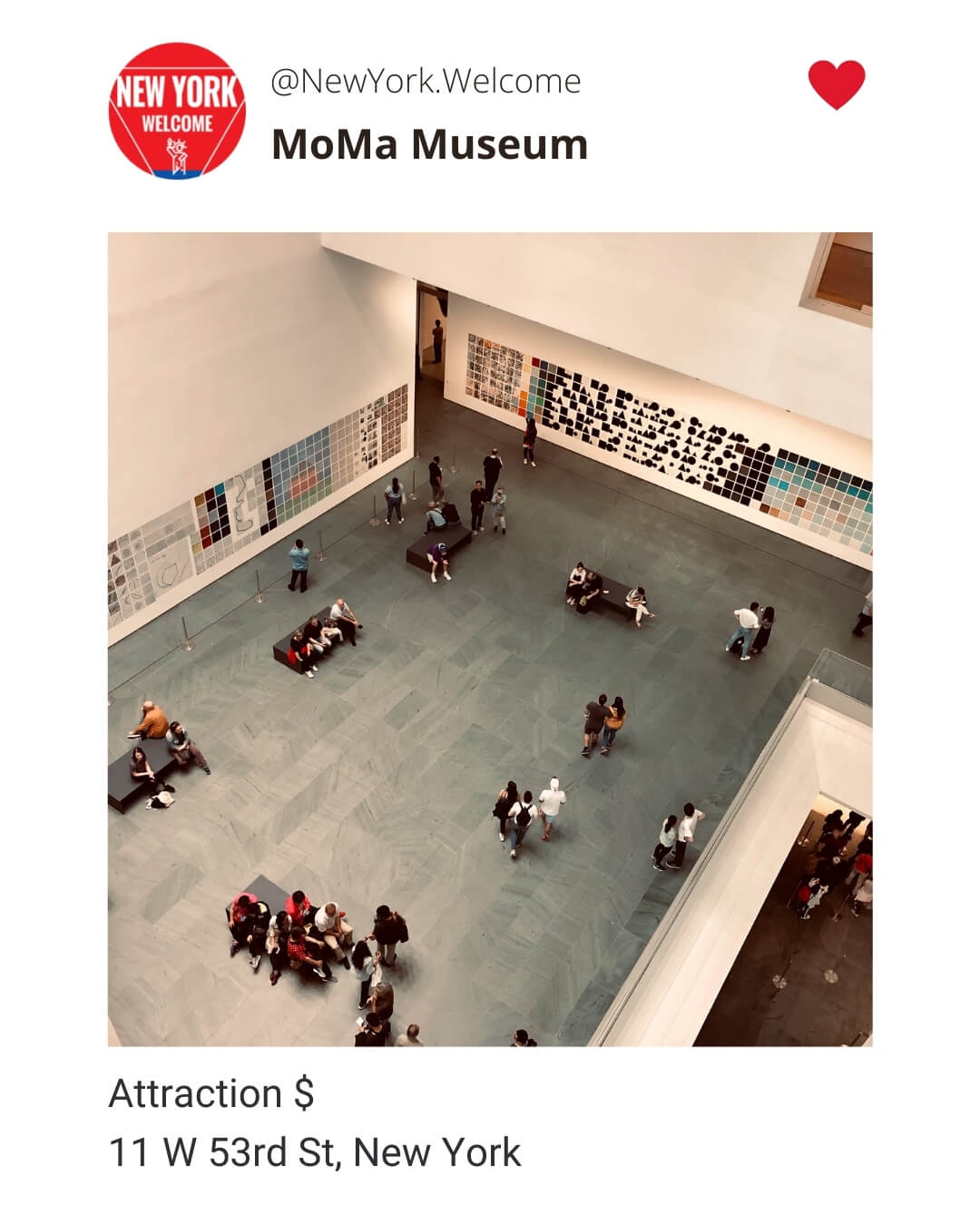 MoMa Museum
The most complete museum of Modern and Contemporary Art in the city. The piece de resistance is the Starry Night by Van Gogh and of course many other artists such as Cezanne, Monet, Picasso, Warhol & more. Price: $25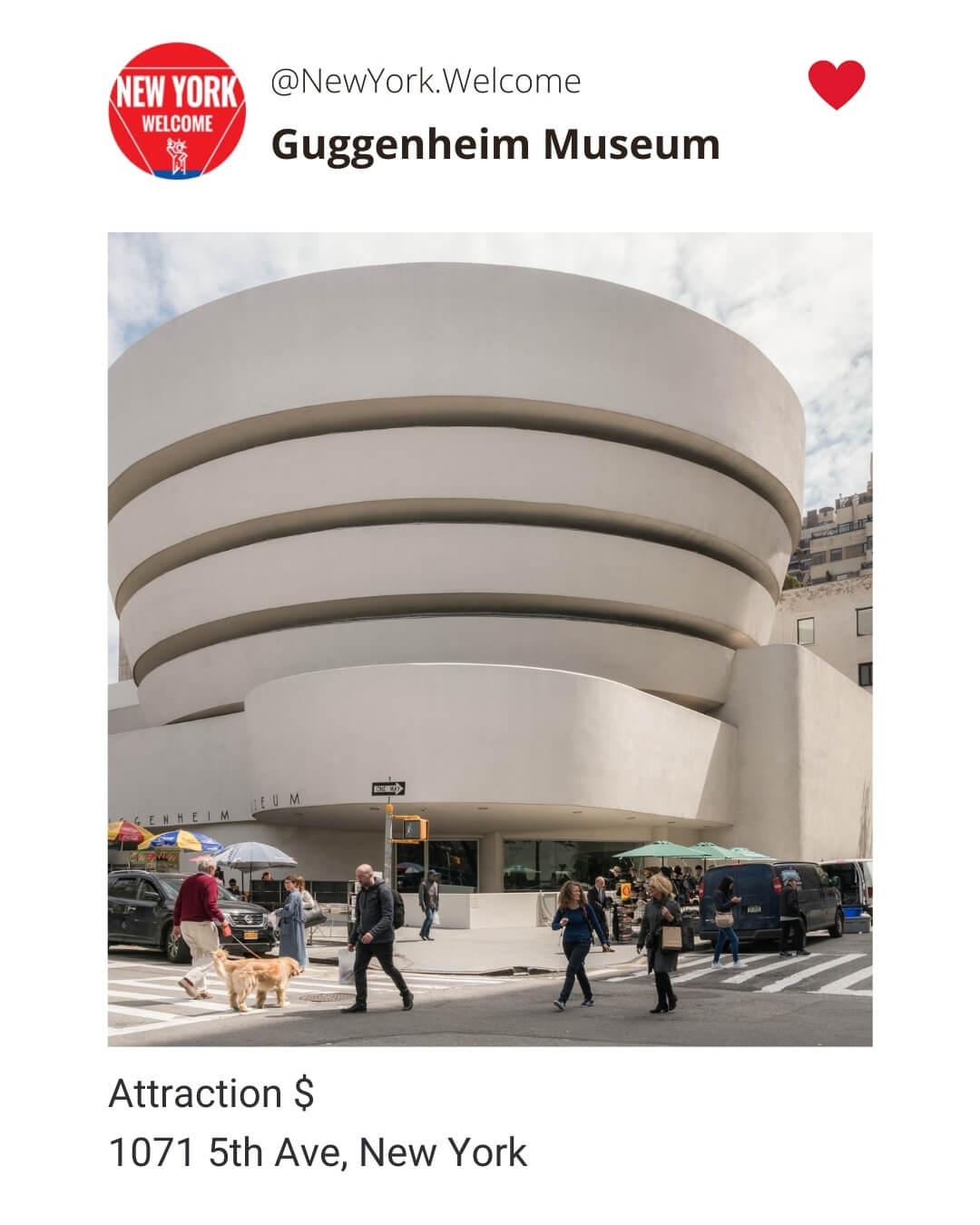 Guggenheim Museum
The museum is known not only for its permanent collection which includes artists like Chagall, Kandinsky, Mondrian but for its special exhibits and unique architecture, masterpiece by Frank L. Wright. Price: $25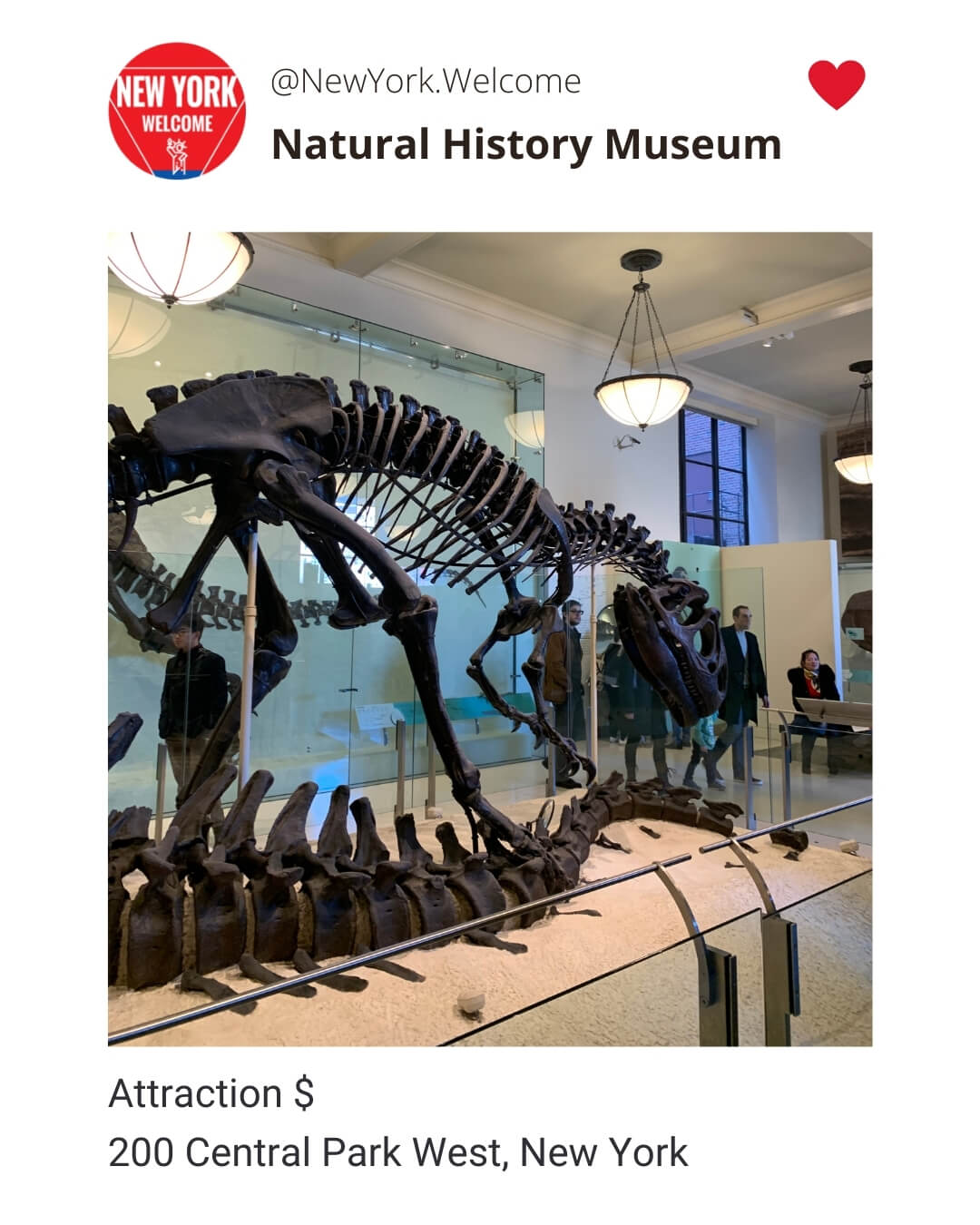 Natural History Museum
Get up close and personal with some of the biggest animals that have ever inhabited Earth from T-Rexes to Mammuts and many more. Perfect for a family outing. Price: $23
Ellis Island Museum
The history of Immigration in the US. Admission is included in the Ferry Ticket departing from Battery Park & NJ. The ferry will stop at the Statue first and Ellis Island after. Price: $22
The 9/11 Museum
An extremely touching Museum dedicated to keeping the memory of those lost on 9/11 alive and a testament to the resilience of all New Yorkers that rallied behind their city. Price: $ 25
Rooftops in NYC: The Best Views
One of the things that fascinates everybody, children & adults, New Yorkers & visitors, is the iconic City Skyline. You will see there are lots of ways to experience and enjoy the Skyline from cruises by the Bay to panoramic helicopter rides to panoramic restaurants and bars to the popular Observation Decks. Here below find the 4 Observatories now open in the city.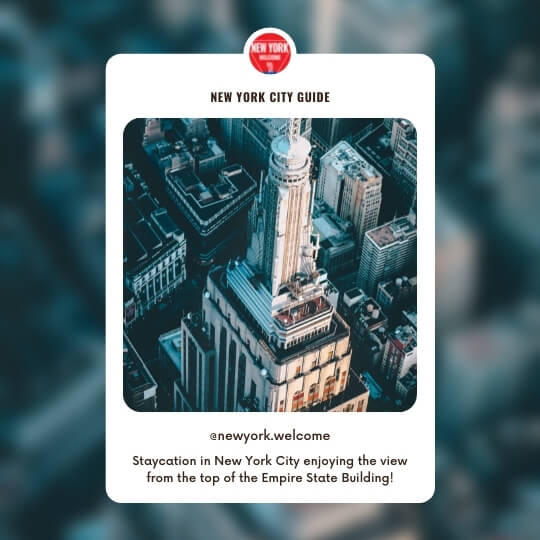 Empire State Bldg
Indoor and outdoor viewing decks on the 86th and 102nd floors. You should visit the iconic Empire not only for its views but for its incredible history too, and of course to snap a pic with Mr. Kong. Recently renovated. Open 365 days a year. Price: From $32.
Top of The Rock
Not as "high" as the others listed here, it still is the best spot to capture the skyline with the Empire State Bldg in it and enjoy more close-up views of Central Park. On the 70th & 71st floors with indoor and outdoor decks. Open 365 days a year. Price: From $32.
Edge
The "new kid on the block." Edge is part of the NEW Hudson Yards complex on 34th Street and 11th Ave. Incredible outdoor terrace on the 100th floor with even a bit of glass flooring. Full Bar in the terrace available. Open 365 days a year. Price: From $32
ONE World Observatory
Located on the 100th-102nd floor of the One World Trade Center, aka "Freedom Tower." Visit not only for unparalleled views of the Bay, Brooklyn & Downtown but to complete a visit of the WTC with the 9/11 Memorial & Museum. Open 365 days a year. Price: From $32.
---
Your Top NYC Questions Answered
How to Plan a trip to New York City
Let's ask Irene, New Yorker and resident Tour Guide. She will share with us some insights and tips on how to plan and execute a New York Vacation.
How long should my trip to New York be?
I always say you can spend a lifetime in New York City and still have things left to see and experience. If time and budget allow it, I would recommend between 5 to 8 days to enjoy the city and take advantage of the many museums, attractions, and activities the city offers. It's enough time so that you can visit 2 or 3 museums, take part in a couple of activities and tours, and explore different neighborhoods without feeling overwhelmed and rushed. I've also seen people that come for only 3 days, especially those that come here often enough, and some that stay for 2 whole weeks to really experience NYC at a lower pace more like a local.
Where should I stay in NYC?
Depending on the budget and the "setting" you want to be in, NYC offers many options. Above we spoke about the different neighborhoods and what they offer. Personally, you would have to pay me to stay in Midtown near Times Sq. because (as for many other NYers) I have a love & hate relationship with that area. By all means, if you are here for a business trip or you simply prefer to be centrally located then I would suggest somewhere around 6th or 7th Avenue between 50th and 59th street. That way you will have equally easy access to Central Park and Times Square, and it's generally a nicer area, well-served by subway trains with some good restaurant options, albeit pricey. But if you like to "immerse yourself" in New York City then I would recommend looking into other areas. Try the Upper East / Upper West for the most residential ones, the West Village, Soho & Tribeca, Williamsburg (Brooklyn) for young & trendy vibes. In these neighborhoods, it's easier to find "local joints" and eateries that are loved by locals not only for the quality of their foods but also their prices!
Is it easy to get around New York City?
More to the point that you don't have to stay in Midtown to be "close" to everything -- NYC has a very extensive subway system that works 24/7. You can pretty much go anywhere hopping on a train. Generally, a ride will cost $2.75 but you can also get a weekly or a monthly unlimited pass that will allow you to use all public transports (subway, buses + tramway) as many times as you like. Depending on the "year" the subway is generally safe-ish but I always recommend practicing caution, stay alert and avoid to use it late at night especially to reach faraway neighborhoods or worst by yourself. Other ways I personally use and love to get around are -- ON FOOT because it's simply the best way to really experience NYC and with the FERRY. For the same price as a subway ride, you can hop on one of the many lines along the East River that connect the Bronx, Upper East Side, Queens, Midtown, Brooklyn, Wall Street, and even the Rockaways! Of course, the famous Yellow Cabs are always around and although you won't find a free one once it starts raining, between cabs and apps like Lyft, Uber, Via, etc, you can easily book a car. On average a ride could be between $15 - 25, of course, it depends on distance.
How much money should I budget for an NYC trip?
One thing for sure, NYC can be an expensive city for both locals and visitors. Especially if you are not familiar with how to get around, where to stay and what to do, you can end up spending quite a lot. However, if you plan ahead, and especially if you find the right deal for the Hotel, you can stay on budget and maybe even save some money. Flights aside, consider that Museums on average are between $15 to $25 and Attractions such as observatories, botanical gardens, zoos, or sightseeing cruises, etc. can go up to $35 to $55. Usually, Museums and Attractions offer some discounted rates for the military, seniors, students, and/or children. For Tours and Experiences consider a rate of $35-75 per person in a group setting or $60/75+ an hour for private guided services. So depending on how many things you want to visit & do you might spend from $50-100 to maybe $350-650 during a week-long vacation. It all depends on how many things you want to do and if you want private or group tours. For restaurants and food in general, as long as you avoid touristy places, you can find really good food that the locals love for $25-35 (lunch) and $35-55 (dinner.) Lots of places offer Prix Fix during Lunch Hours and Bottomless Brunches for $35-45 on the weekends. Generally, adult beverages are what brings up the check but you can try a Happy Hour to save on drinks. Let's talk about the Hotels. For decent accommodation (hotel or AirB&b,) I would consider between $175 to $275 a night. Note that we have a steep nightly occupancy rate so always add roughly 18% on top of the nightly rate to get an actual estimate on how much the room will cost. Of course, prices vary greatly, especially during the Holidays. If you are okay using public transportation, the unlimited weekly pass is $33. and you will basically be able to go everywhere in the city. Shows, Musical, and concerts can go anywhere from $55 to $250 per person based on the type of show and the season.
What things should I see first?
A lot will depend on what type of activities interest you the most. I would say at least once in a lifetime you should visit the Statue of Liberty and Ellis Island because they are the very core and foundation of our City's and Nation's History. I always recommend one Observatory to enjoy the views, my favorite one is The Top Of The Rock for its central location guaranteeing great views of Central Park too. If budget allows, a Broadway Musical can be an incredible experience, and I would take a walking tour with a local guide, maybe of an off-the-beaten-path area, to get a better sense of the city not only historically but also culturally and socially.
What food staples should I try?
Some of the things you will only find in New York, or at least they taste better over here are - Bialys, Bagel and Pizza. Plus, if you love exotic cuisines, NYC has one of the most diverse food scenes in the country. You should really save some of your budget to try the different cuisines the city offer.
When it's the best time to visit NYC?
Are you more of a winter or summer person? Does the hot & humid bother you? Then forget July and August. Does the extreme cold temperature make you wish you could hibernate? Then Forget January and February. For milder temperatures mid-September to mid-October or mid-April to mid-May. I need to make a special case for December because the city decked out for Christmas is something else, you might encounter snow or you might even have milder temperatures, it's hard to predict but the atmosphere is so unique, yes, can be more expensive and crowded, but if you can come during the week, you might find lower rates.
What can I do if I'm traveling with kids?
The city has lots of activities for the little ones. From Museums such as the Intrepid and the Natural History to Zoos and the Botanical Gardens. A sightseeing cruise might also be a fun way to see a lot of sights without having to walk much. The city also offers many playgrounds especially in the parks and residential areas that can allow the little ones to run around and make new friends.
What are some suggestions to save money while visiting New York?
It's all about researching and planning smartly. For the Flights, try to use miles if you have some, or check websites like Skyscanner and see what's the best deal out there. Especially if you have flexible days do a +- 3 days search and they will tell you the cheapest day to travel, and sometimes one-way tickets with different airlines will actually make you save money. For the Hotels, if you have special rates because of affiliation or credit card rewards, etc. you can maybe save some money that way, but usually, it's all about finding the right deal at the right time. With the right combination of location, amenities, compromises, you can get close to what you want and save. For museums and attractions, some places do offer Free Admissions one day of the week, so you can take advantage of those or you can buy one of the Saving Passes that will allow you to visit multiple attractions at a lower rate. It all depends on what you want to do but generally -- Plan, plan, plan! And then once in the city, don't be a Tourist! Yes, you are visiting a new place but if you try to mix in with the locals, you will see how much you can save. I've never paid $20 for a Hot Dog and would refuse to spend $5 for a bottle of water. Keep in mind that if something is "touristy" it will be more expensive. Just a few blocks away, you might be getting the same thing, or better, for half the price. Plus, check what free events the city is running during your travel dates. For example, in the Summer, many parks run free "under the stars" movies, live Broadway shows and free music, or free yoga classes, etc.
What other cities/places can I visit from NYC?
NYC could be a great starting point for some amazing road trips. Whether you want to do daily excursions or rent a car and go, you have options! From the sandy beaches of Long Island and the Hamptons to the slopes and mountains of Upstate NY, from the capital Washington DC to the city of brotherly love Philadelphia. From Boston and New England to down the East Coast to the Carolinas. Depending on time, budget, and preferences, you can build quite a trip from NYC.
---
Most Popular Articles about NYC
If you want to dive more into exploring the city, you might be interested in reading these 3 articles. From how to score free museums, to traveling with kids and nailing the NYC Subway. These articles are found on our sister web-site New York Welcome. Over there you will have several articles to choose from including some talking about the best restaurants, gourmet cupcakes, how to choose the best Museum Pass, and many others.
We hope you will find this New York City Guide informative and helpful. Remember we are headquartered in NYC, if you need help planning your trip to the Big Apple, we are here to help!
ENJOY NEW YORK CITY!