Gift Cards and Virtual tours are excluded from the Book Now Pay Later option.
Once you complete your order online, our customer service will generate a secure link for you to complete the payment and generate your Gift Card.
PROMO: ALL BOOKING FEES WAIVED WHEN YOU ORDER YOUR GIFT CARDS ONLINE.
Why not gift someone (or yourself!) a Gift Card to start dreaming of the next Vacation?
Buy now the Gift Card of the value you want and you can decide later the Activity and/or Tour you would like to do. Choose from all the experiences we offer in New York, on our NewYorkWelcome website, or roam across the States on our USA-Welcome site, and choose your next US destination!
Do you want to visit New York City, explore the surroundings with a native tour guide, or discover the Northeast of the US? Choose the Gift Card of the amount you want and use it to purchase one of our services on our New York Welcome site.
Valid for two years from the day of purchase, the Gift Card has no black-out dates or other restrictions!
Examples: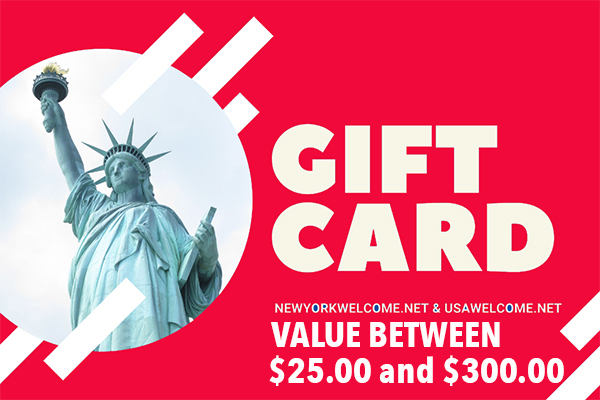 Perfect for:
The $25.00 Gift Card can be used as a downpayment towards any service (of any amount!) See the EXCLUSIVE OPTION - THE GIFT CARD AS A DEPOSIT. It is the most popular and it is often used to gift a city tour, cruise or one of famous CityPASS in major cities of the United States.
Perfect for:
An escorted Group Tours or a Road Trips in the US. Choose your destination and activity in US or ask one of our itineraries that will take you beyond the popular metropolis and experience the open spaces of the great prairies, valleys, forests, deserts, sand dunes, red rocks, canyons, and all those things that make America so popular abroad.
BUY NOW YOUR GIFT CARD
---
Why gift a Gift Card?
If you have a friend who is planning a trip to NYC or the United States, if you are thinking of giving a special wedding present to your friends or you want to treat yourself to a magical New Year's Eve (2021/2022) in the Big Apple or in sunny Los Angeles -- this is the perfect opportunity to buy our Gift Cards!
Here are some "inspirations" for your Gift Cards:

Birthday gift
Wedding gift
"Thinking of you" gift
Thank-you gift
Baptism, Confirmation, etc. gift
Graduation gift
Anniversary gift
and many other reasons why!
---
HERE'S HOW TO USE THE GIFT CARD
The Gift Card is valid until December, 31st, 2022 and it allows you to purchase any product on our sites:
NewYorkWelcome.NET
USA-Welcome.NET
Choose the Gift Card that's right for you and immediately after the purchase, you will receive an email with your electronic Gift Card with its unique identification code. During the purchase, you can choose whether the Gift Card is for you or a gift to someone else, and you can also add a personalized message.
To redeem the Gift Card and book one of our services, just enter the Gift Card code during the check-out. The Gift Card can be used several times until the credit runs out. The credit is automatically adjusted after each purchase.
EXCLUSIVE - DEPOSIT OPTION:
If you want to use the Gift Card amount as a deposit towards a future trip, please write to our Reservation Department info@usawelcome.net - Our Staff will proceed to create the reservation using the Gift Card as a deposit and the remaining balance can be paid by credit card within 8 days from the start of the service.
Please note that the Gift Card is non-refundable, is valid until December, 31st, 2022, and does not allow any changes. Upon expiration, it can no longer be used and will not be subject to any form of reimbursement for any remaining unused credits.
In the event of a request for a change of date or cancellation concerning one or more services purchased (partially or entirely) with the Gift Card, the original value of the latter will not be refunded but we will re-credited the amount used towards the services to the Gift Card which will remain valid until December, 31st, 2022.
Cancellation policies and penalties are shown on each product page.