The city of Chicago
is located in the
Midwest
right along the shores of
Lake Michigan
. Its climate is continental with
cold winters
, often the temperature goes below freezing, and
hot summers
. Throughout the year, temperature changes are frequent.
Average Temperatures in Chicago

Average Annual Rainfall in Chicago
The annual
rainfall is fairly well distributed
throughout the seasons, however winter remains the driest season. In late spring and early summer, thunderstorms are easier to come late in the afternoon and evening.
August
remains amongst the
rainiest months
. In winter, rainfall is mainly in the form of snow, but snowfall can also occur in October and also in April.
Winter in Chicago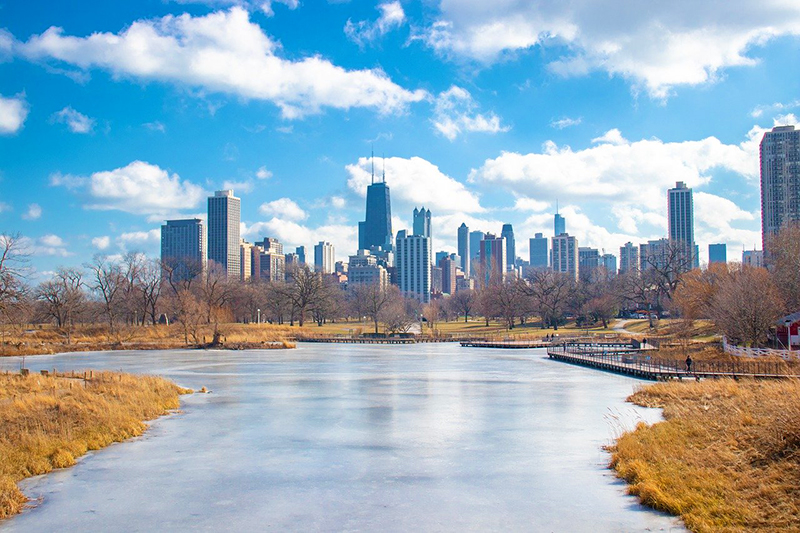 Winter in Chicago starts from late November until, at least, early March, and it's
really cold!
Snowfalls can become quite big storms with gusts of wind that will increase the cold feeling,
low temperatures can drop even down to -5F/-20C
and in some cases, they have dropped to about
-22F/-30C
. So, if your trip is during this season get ready to dress up!
During the day, temperatures mostly remain below freezing or slightly above it. We also have the phenomenon called
"ice storm" (or freezing rain)
, in this case everything freezes!
We clearly recommend all indoor activities or Tour Chicago with the car. There are indeed several museums and attractions that you can visit while the tour of the city can be done by panoramic buses or by cars.
Spring in Chicago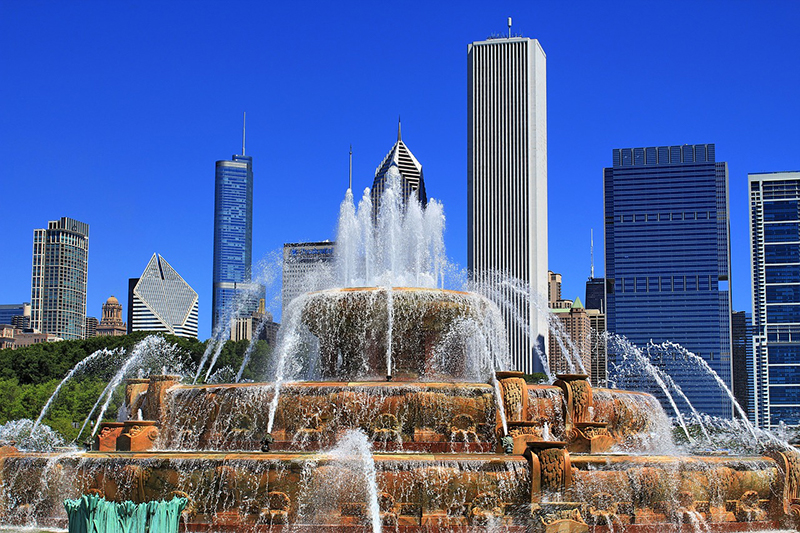 Spring, from mid-March to May, is the season with the most temperature changes, it is very unstable, and it will give you whiplash! Get ready to dress properly, you go
from cold days
with the presence of
heavy snow
(late March to early April)
to hot days
with maximum temperatures that can
reach up to 78F /25-30C
. This is also the season of breezes coming from the lake, sometimes cool but in some cases decidedly freezing, keep this in mind, if you book a cruise on
Lake Michigan or the Chicago River
. Finally, in May you can still have low temperatures at night, especially at the beginning of the month, while during the day it can reach even 85F/30C. May is a month to be taken into consideration for a trip to Chicago.
In April and May, we also have the first
afternoon and evening thunderstorms
.
Summer in Chicago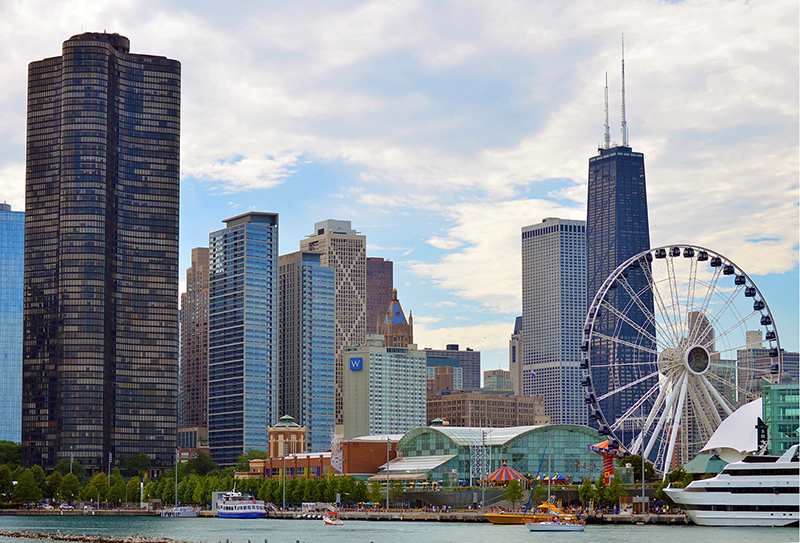 Summer, especially the months from June to August, is hot and sunny. Quick thunderstorms in the afternoons since it's still the wettest season.
High temperatures around 77/81F - 25/27C
with peaks up to 95F/35C and beyond, however, the nights can be cooler. The season is recommended for
many outdoor activities
, such as lake cruises or excursions in the surrounding area to visit the towns that overlook Lake Michigan. It is the season that will make you
enjoy the Parks
--
Millennium Park - Grant Park - Lincoln Park Zoo
.
Fall in Chicago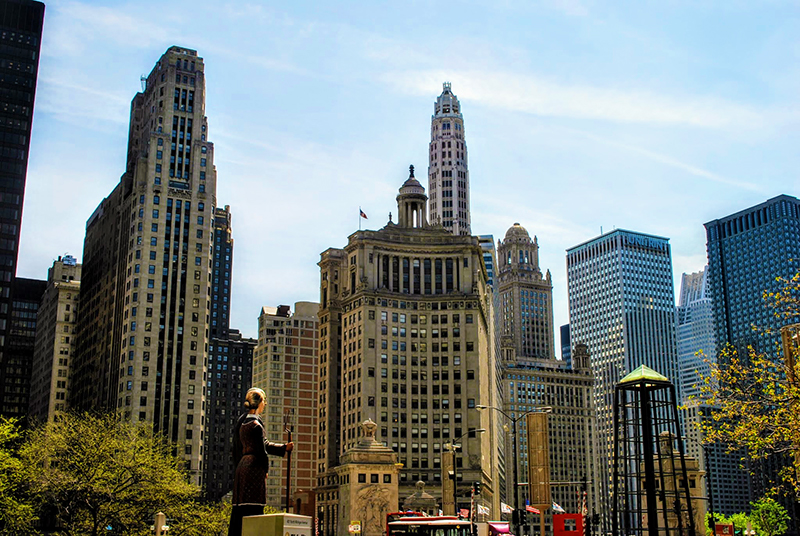 Fall, from September to November, is the most "stable" period of the year with less rain on the radar. Days characterized by cold temperatures in the night and early morning, but warmer during the day, and hot temperatures can make a come back. In
early September,
it is still hot and humid but later on, it becomes milder. In October, particularly mild days can alternate with mild frosts. But it is between late October and early November that usually the nighttime will show freezing temperatures and the daytime will average high temperature of 68F/20C, this is the
so-called Indian summer
. Attention, it only lasts a few days, in November it can get cold quite quickly, and the first snowfalls and intense frosts will arrive.
Consider the period
from September to the first days of October
for a visit to Chicago.
When to visit Chicago - Tips on How to Dress
The best time to visit Chicago is t
he beginning of Fall
, from
September to mid-October
.
Spring is also pleasant,
from
mid-April to the end of May
, even if it is a more unstable (and windy) season. However, in both periods, it can be a l
ittle cold at night but warmer during the day
with a few rainy days in between. Those of you who can stand the heat can also choose summer, which has longer days and more hours of sunshine. Although the heat is felt in the summer, it can also give beautiful days with pleasant nights.
Warm clothes, jackets, gloves and scarves, wool hat and snow shoes -- this is what you have to put in your suitcase, if you want to venture to Chicago in winter. Plan v
isits to museums, theater shows and dinners w
ith music ... Chicago is the home of Blues Music after all.