Explore our Itineraries - What you can see in NYC
These are three of our most popular 2.5-hour tours in New York City. Two hours are the perfect length to explore and enjoy one neighborhood without feeling overwhelmed or getting too tired. The price shown in the images from $56.25 per person is based on a group of 4 adults. You can check current availability and rates by scrolling down and selecting the tour you are interested in. These are all private tours and we allow up to 12 guests to participate. If you have a larger group, contact us and we'll be glad to assist you further!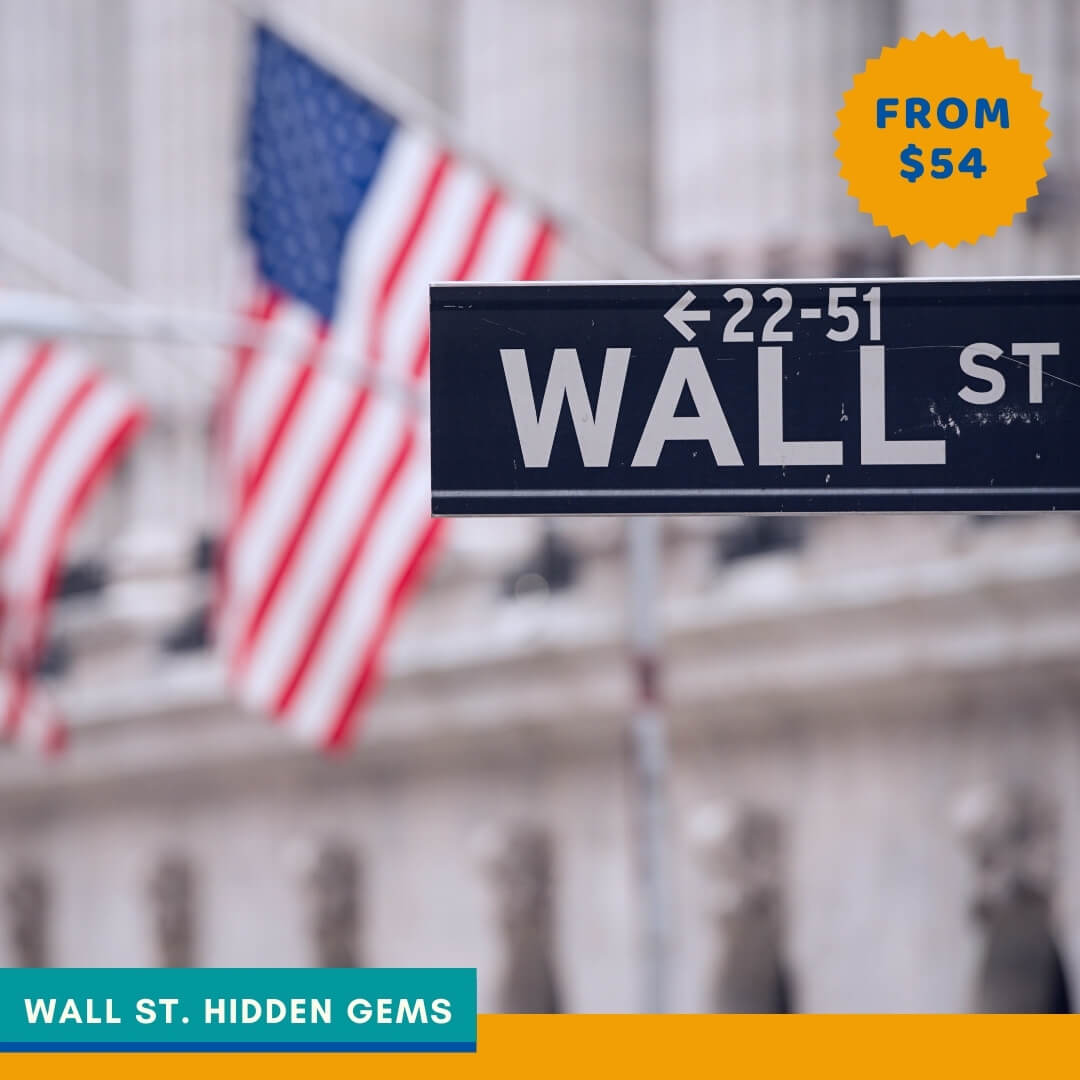 Hidden Gems of Wall Street
When we hear "Wall Street," we typically think of New York City's financial hub. The neighborhood housing the NY Stock Exchange (NYSE) and the iconic Charging Bull sculpture by the Italian artist Di Modica. However, Wall Street and its surroundings (aka the Financial District) are full of many "firsts" from first paved streets to first public parks, historic buildings, hidden gems, and many secrets. In this not-so-typical walking tour, we will visit some iconic areas such as Wall Street and Bowling Green along with hidden gems like an elevated park open to the public, an old candy store still "surviving" today inside an office building's lobby, and Cannon's Walk in the South Street Seaport District. With this tour, you will be able to see all the top landmarks and sights of a classic Financial District Tour as well as enjoy anecdotes and secrets that will make this area much more entertaining than it already is. Itinerary Highlights: Bowling Green, 'Steamship Row,' Charging Bull, Fraunces Tavern, Stone Street Historic District, Wall Street, NYSE, Fearless Girl, Water Street Elevated Acre, Pier 17, South Street Seaport District, Cannon's Walk, and more.
---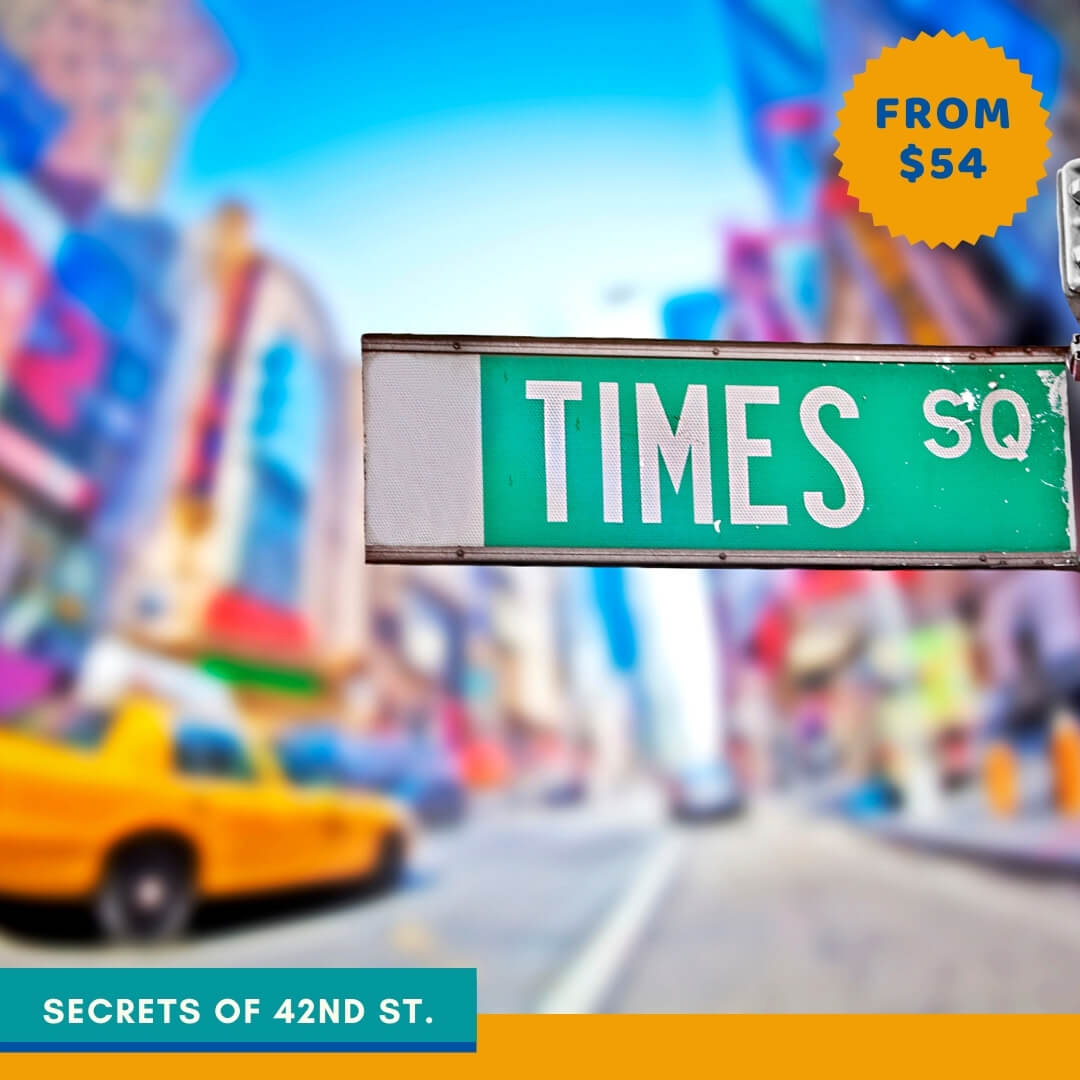 The Secrets of 42nd Street
Everybody that has come to NYC at least once has been to Times Square and 42nd Street. And those arriving for the first time, we'll definitely have Times Square high up on their lists of things to see in the city. As New Yorkers, we are "engineered" to love and hate this area, often labeled overcrowded and over expensive. But to just paint Times Square and 42nd Street as "tourist traps" would be such a shame. These avenues have lots of secrets to tell us and hidden gems to show us. During the tour, we will learn where Times Square takes its name from and how it changed over the years, what is really buried under the famous Bryant Park, and we will have fun trying some old "whispering arches." The itinerary includes several stops along 42nd Street. Starting by the TKTS Red steps in Times Square for some great views over the most famous crosswalk in the world, followed by Bryant Park and the 42nd Street Public Library, where we will visit the iconic main reading room on the 3rd floor - if open. We'll walk down Library Way to arrive at Grand Central Terminal, where we'll conclude our tour with a visit to this iconic station.
---
The Brooklyn Experience
We talk about Manhattan a lot with all its important landmarks and famous attractions, but did you know that the first-ever designated Historic District with the Landmark Preservation was actually a neighborhood in Brooklyn? Yes, Brooklyn Heights is officially the first historic districted in the city. Its narrow tree-lined streets safeguard so much history and anecdotes of the old New York. Actually, Brooklyn Heights holds even older secrets and testimonies. Back when the area was inhabited by Native Americans from the Lenape Tribe, some of their original pathways leading to the bay are today's Brooklyn Heights streets. During the tour, we will see elegant townhouses original to the 19th century, we will walk along the Promenade Park for unparalleled views of the skyline while learning what it was like to live in New York in the 1800s. We'll see and hear how the city adapted to the changes of the late 1800s and early 1900s by visiting the neighborhoods of Fulton Landing and Dumbo until we'll arrive at the foot of the Brooklyn Bridge. Sometimes it's hard to imagine the first and longest suspension bridge was built during the second half of the 1800s. The tour will conclude with a 30 to 45-minute walk to cross the bridge from Brooklyn to Manhattan and end by City Hall.
---
Answering Top-asked Questions
Who should consider joining these tours?
If you are looking for a dedicated and attentive service, if you love learning new things & fun facts, if you want to avoid crowds even in popular crowded areas, if you don't want to be just a tourist but you actually want to explore and experience the city you are visiting, then this type of tours is just for you! Oh, and you must love walking at an easy pace for at approximately 2 hours.
Are your Tour Guides licensed?
Yes, all our tour guides have the NYC sightseeing license and must have successfully passed the city-sponsored exam to lead tours in NYC. They are either native New Yorkers or people that moved here and made the city their home for years now.
How many miles do we have to walk?
Depending on the tour, we will be walking between 2 to 3 miles during the 2 hours. We will keep a very leisurely pace, and most people can join the tour as long as they don't mind the walk. You don't need any particular level of fitness to join the tour. If requested, we can adapt the tour to make sure we will only use ADA and wheelchair accessible routes. Please let us know in advance, so we can make the necessary arrangements.
What kind of transportation is included in the tour?
These are private walking tours, so no transportation is included as no transportation is necessary during the tour.
How do I make a Reservation?
Whenever you are ready to make your reservation, you just need to choose which itinerary you want to do, pick a date and selected how many participants. It's a quick form to fill out and you will reserve your spot. One of our tour guides will reach out to confirm the meeting time and place.
Can I cancel or change the date?
You have up to 3 days before the tour date to change or cancel the tour for a full refund. In the event you have to cancel less than 3 days from the tour date, unfortunately no refund will be issued. We understand last minute changes happen, so we will try our best to move the tour to another day, free of charge, depending on the tour guide's availability, or issue a credit to be redeemed for a future date.