EXPLORING THE U.S.:

beyond the usual national parks
Visiting America's national parks is a dream for many visitors traveling in the United States. But did you know that in addition to national parks, each of the 50 American states boasts an array of state parks? The main difference between a state park and a national park is the governing body that oversees them. National parks are, of course, overseen by the central federal government whereas all state parks are managed by local state governments. However, this doesn't detract from their natural beauty and grandeur.

When it comes to exploring the great outdoors in the United States, there are plenty of state parks that are worth a visit. Although America's state parks may seem less important, they often offer more amenities than national parks. For those planning a road trip, state parks are unmissable destinations to enrich their travel itinerary with lesser-known gems. To help you craft a more unique adventure, we've handpicked a park in each state based on its unique appeal.

While some of the more well-known parks may be on your list, there are also hidden gems that are just waiting to be discovered. This article will introduce you to some unexpected destinations that are sure to impress.

EDITOR'S NOTE: some state parks may charge an entrance fee. Given they belong to different states, unfortunately, there isn't a universal pass for all state parks like there is for national parks. Therefore, you'll need to pay for each entry individually.
Alabama: Gulf State Park
Gulf State Park in Alabama is the perfect destination for a seaside vacation: pristine white sand beaches, kayaking, biking, and plenty of relaxation await.
Alaska: Chugach State Park
Few state parks in the USA are as picturesque as this one, with endless glaciers and mountains, all a short distance from the nearest city center.
Arizona: Lost Dutchman State Park
An ideal place for hiking enthusiasts, this park surprises visitors with its towering cacti and red sandstone formations. It's situated just 40 miles from Phoenix.
Arkansas: Devil's Den State Park
This location offers numerous outdoor activities: not only hiking but also cycling, boating, and fishing on the shores of Lake Devil. The landscape is rich with caverns and intriguing rock formations.
California: Redwood National and State Parks
Amongst the parks that are both national and state parks in the U.S., Redwood stands out for housing some of the world's tallest trees. The coastal stretch is also worthy of a visit.
Colorado: Eldorado Canyon State Park
Close to the town of Boulder, which in itself is worth a visit, is one of the most scenic parks in the country, where you can admire (and explore) canyons and red rock cliffs.
Connecticut: Silver Sands State Park
Birdwatching enthusiasts will appreciate this scenic area, especially Charles Island with its numerous species of land and sea birds. The park's name reflects the presence of light-colored sand and dunes.
Delaware: Cape Henlopen State Park
One of the best state parks in the USA for water sports, Cape Henlopen offers opportunities for swimming, fishing, kayaking, and particularly windsurfing.
Florida: Ichetucknee Springs State Park
This park allows visitors to discover a hidden side of Florida – its inland areas. Don't miss the chance to embark on a kayak trip through the lush vegetation.
Georgia: Tallulah Gorge State Park
In this area, tourists will find a vast, deep gorge naturally carved by the Tallulah River. Exciting hikes along it traverse several suspension bridges.
Hawaii: Wai'anapanapa State Park
Wai'anapanapa is a unique state park: in addition to the black sand and cool water coves typical of Hawaii, it houses a religious temple.
Idaho: Farragut State Park
The park is situated in the northern Idaho mountains, ideal for cycling and hiking. For those that love camping, we recommend stopping by the lake for a captivating atmosphere.
Illinois: Starved Rock State Park
The sandy canyons and waterfalls will transport visitors to a surreal world ... You will feel like you have just landed on the moon. If you're lucky, you might even see a deer or a bald eagle.
Indiana: Brown County State Park
This state park is a great place for cycling enthusiasts with over 20 miles of trails under the trees. The best season to visit is autumn, with mild weather and beautiful foliage..
Iowa: Backbone State Park
The park has it all: hiking, climbing, cycling, and trout fishing... it's perfect for nature lovers.
Kansas: Wilson State Park
This state park is another excellent place in the U.S. for water sports, particularly fishing, kayaking, swimming, and paddle-boarding.
Kentucky: Cumberland Falls State Resort Park
The park is renowned for its waterfalls, which often generate "moonbows" (lunar rainbows) in the night mist.
Louisiana: Chicot State Park
The park surrounds the eponymous lake, rich in biodiversity. If you're up for it, you can take on a more than 18-mile hike around the entire park's circumference.
Maine: Baxter State Park
This park is one of the most extensive state parks in the U.S., offering practically unlimited exploration opportunities. Apart from camping, don't miss hiking along the Appalachians and pleasant stops at lakes and streams.
Maryland: Assateague State Park
This park provides a unique opportunity to witness Maryland's wild horses running around in the wilderness.
Massachussets: Mount Greylock State Reservation
The park is favored by backpackers, thanks to its paved trails and well-equipped shelters.
Michigan: Porcupine Mountains Wilderness State park
Located on Michigan's Upper Peninsula, the park is mainly comprised of lush rainforests. Hiking in summer and skiing in winter is a must, surrounded by beautiful waterfalls.
Minnesota: Itasca State park
The park is one of the most lake-rich state parks in the U.S. with about 100 lakes within its borders. The water source of the Mississippi River is a must-see attraction in this area.
Mississippi: Tishomingo State Park
Located in Mississippi at the base of the Appalachian mountains, is a great site for historical and archaeological findings.
Missouri: Johnson's Shut-Ins State Park
This park will surprise visitors with its rocky streams and rustic beauty. Just be careful when walking around as the rocks along the streams can get really slippery!
Montana: Makoshika State Park
The state park provides a seemingly Martian landscape with bizarre rock formations and an abundance of dinosaur fossils, including a Tyrannosaurus Rex.
Nebraska: Smith Falls State Park
Home to Nebraska's tallest waterfalls, is set to reopen in the spring of 2023. Regardless of the season, you can canoe from the park to the Niobrara River, where you can see bison and other wildlife.
New Hapshire: Franconia Notch State Park
The park allows visitors to stroll within an ancient forest. Don't miss walking along the Flume Gorge, a natural granite canyon extending for over 800 feet horizontally.
Nevada: Valley of Fire State Park
The park is known for its unique rock formations that leave a lasting impression on visitors. The white and red landscape even includes petrified trees.
New Jersey: Island Beach State Park
The oceanfront park features a long, pleasant beach with over 7 miles of sandy dunes.
New Mexico: City of Rocks State Park
The park is a hiker's dream with a volcanic origin, and the ancient eruption created a unique landscape.
New York: Niagara Falls State Park
Possibly the most famous U.S. state park, certainly needs no introduction. Not to be missed!
North Carolina: Chimney Rock State Park
The park is dominated by the peak of Chimney Rock and the view of the Blue Ridge Mountains, it also features a beautiful waterfall.
North Dakota: Little Missouri State Park
This quiet park is perfect for hikers with much of its area accessible via a guided trail. Although the park is not heavily frequented, there are millions of reasons to go.
Ohio: Hocking Hills State Park
This park is considered to be 7 parks in 1 due to its richness and variety of terrains and biodiversity. It's not to be missed.
Oklahoma: Lake Murray State Park
This park is appreciated by campers, hikers, and even golf players.
Oregon: Oswald West State Park
The park is largely situated on a cliff, where visitors can enjoy the spectacle of the crashing waves. Heading down to the beach, there are great opportunities for surfing.
Pennsylvania: Ohiopyle State Park
The park is spacious and packed with trails for cyclists and hikers, with natural water springs and a chance to find fossils.
Rhode Island: Colt State Park
The park provides one of the best American views of the Atlantic Ocean!
South Carolina: Jones Gap State Park
The park not only offers diverse flora and fauna but is especially known for its waterfalls making it a true paradise for all waterfall lovers.
South Dakota: Custer State Park
Located in the Black Hills area of South Dakota, has miles and miles equipped for hiking and cycling and stunning camping spots. The luckiest visitors may even spot a bison.
Tennessee: Justin P. Wilson Cumberland Trail State Park
The park offers some of the most spectacular views among U.S. state parks. From the top of the Cumberland Plateau, you can take beautiful photos.
Texas: Palo Duro Canyon State Park
The park represents the second-largest canyon in America, which can be explored on foot, by bike, or even on horseback.
Utah: Goblin Valley State Park
The park is known for its rock formations that pepper the landscape, creating fantastic shapes. It's loved by tourists for the opportunity to take incredible photos and stroll in these "fairy" lands.
Vermont: Smugglers' Notch State Park
The park is accessible to all for camping or even just organizing a picnic under the tall, slender trees of the Green Mountains.
Virginia: Grayson Highlands State Park
The park covers a rather extensive area, located within the Jefferson National Forest. Climbing Mount Rogers and Whitetop offers magnificent views.
Washington: Deception Pass State Park
Situated between Whidbey Island and Fidalgo Island, the park is a small coastal gem offering turret bridges, coves, and cliffs.
West Virginia: Blackwater Falls State Park
Named after the dark water cascading down the falls, the park is famous for its unique landscape. Safe for hiking, cycling, and fishing.
Wisconsin: Devil's Lake State Park
It's not only the largest park in Wisconsin but also the most spectacular. It's best enjoyed on a summer day with a refreshing dip in the lake after a hike.
Wyoming: Hot Springs State Park
The park is one of the most distinctive U.S. state parks due to the high temperatures of the water streams, creating steam pools. Visitors might spot wild animals, including bison.
BEST STATE PARKS IN AMERICA: THE MAP
HAPPY ADVENTURING!
THE BEST STATE PARKS IN AMERICA - PHOTO GALLERY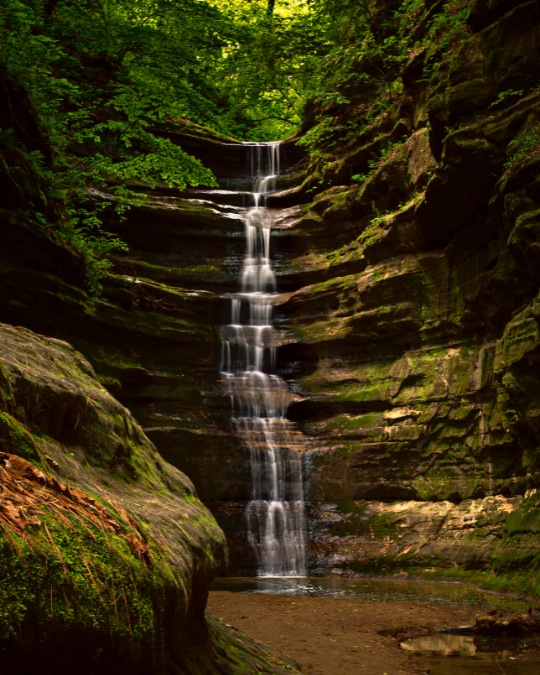 ---
THE STATE PARKS ACROSS AMERICA
ACTIVITIES AND ITINERARIES TO EXPLORE THE BEST STATE PARKS IN THE U.S.