TRADITIONS AND HISTORY OF

Southern cusine
Southern United States cuisine is perhaps the most recognizable across the nation and is based on the culture and tradition of many ethnicities and nationalities, enriched by new traditions and techniques learned in the field, rather than through formal culinary training and recipes. The few old and traditional Southern cookbooks that do exist are rare and often hold deep significance for their owners and their families.
What is Southern Food?
Southern food is a unique blend of ingredients and techniques passed down from generation to generation. More than just food, it's a
way of life deeply rooted in history, culture, and pride
. Traditional Southern food can be hard to define, but there are some characteristics that are consistent in all Southern dishes. Fried chicken and hot sauce, sweet tea, barbecue—these are all dishes that conjure up images of the American South. But what do these foods have in common?
Bold Flavors
Traditional Southern recipes typically call for plenty of sugar, salt, and fats. This is because they are designed to feed large groups of people with limited resources. For example, country ham is boiled in a pot with many other ingredients so it can be served as a side to various types of meat or vegetables.

Use of Fresh Seasonal Vegetables
Southern-style cooking is known for its strong emphasis on fresh vegetables, especially greens like collard greens and kale, which are often served with some type of meat.

Abundance of Bacon
There's an abundance of bacon used in many Southern dishes: whether it's fried and added to cornbread or sprinkled over a bowl of creamy grits, bacon is a staple ingredient that never seems to go out of style.

Sugar Galore
Southern cuisine is characterized by its love for sweetness, which can be explained by the fact that the South has historically been known as a place where sweetening ingredients were readily available and affordable. Think not only of sugar but also other natural sweet ingredients like sweet potatoes and pecan nuts.
SOUTHERN UNITED STATES CUISINE - PHOTO GALLERY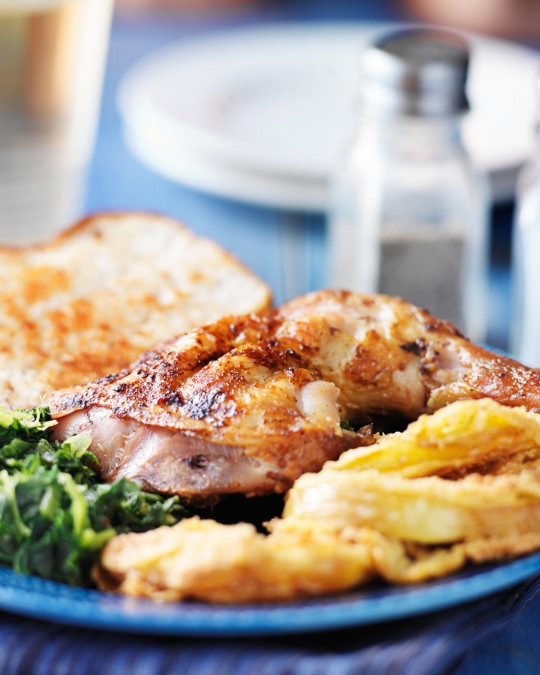 ---
Origins and History of Southern Cuisine
Historically, Southern cuisine and all its subcultures have been built upon ingredients and techniques from various cuisines such as French, Spanish, British, German, Liberian, and Acadian, to name a few.
It's a cuisine that developed over decades and centuries of trial and error, making the best of what was available at the time.

The culture's origins have both beautiful and rich aspects, but also inconceivable roots tied to the dark history of America linked to slavery and the many conflicts that arose during the colonization of the American continent. Despite the pressures and conflicts, the South developed one of the most distinct and diverse cultures in the United States. This led to some of the most iconic dishes known worldwide today.
African Origins
You can see significant and subtle influences of European culture scattered throughout much of what is experienced in the South. Compared to African influence, however, it is minimal. Black slaves were forced to do practically everything on white family farms, from construction to clothing production or repair, to farming, and, most importantly, in this case, food preparation.

When looking at the culture as a whole, you begin to notice ingredients that stand out as unique and African. Okra, watermelon, black-eyed peas, and sorghum, for example. Even methods like deep frying have long been considered of African origin, paving the way for perhaps the most iconic Southern dish in the world today: fried chicken.
Soul Food
Soul food is a traditional African-American cuisine originating from the southern United States, emerging in the 1960s when "soul" was a term associated with black culture, thus inspiring the name of this rich and flavorful culinary tradition.
This style of cooking has stirred up passions in the South due to the profound implications that the rise of these dishes has brought with it. Today, soul food is like the symbol of the South.
Everything that represents Southern food can be found in a soul food restaurant. Dishes like grits, rice, peanuts, candied sweet potatoes, collard greens, and especially various fried chicken dishes. All dishes mastered by slaves in colonial America.
The Impact of the Slave Trade
It's not a secret or an undisclosed fact that the slave trade in the United States had an extraordinary influence on the culture of these regions. Cooking was often the preferred form of work for slaves since cooks were treated less brutally.

Nowhere is this influence more evident than in the traditional foods of the South. Since it was illegal for blacks to learn how to read and write, these recipes, methods, and techniques were passed down orally, which is one of the key factors contributing to Southern cuisine today.
STAY TUNED FOR PART II
SOUTHERN UNITED STATES CUISINE - PHOTO GALLERY
---
DISCOVERING SOUL FOOD
WHERE SOUTHERN CUISINE TAKES YOU