THE 18 BEST BEACHES IN THE USA

for dogs
Planning a beach getaway? Why not pick a spot where your furry companion can enjoy the surf and sand alongside you? The US boasts numerous dog-friendly beaches that offer everything from rinse stations with fresh water fountains to enclosed areas where puppies can play and socialize freely.
Choose between the vast soft sandy beaches of the Atlantic, the rugged, wind-swept coasts of the Pacific, or the picturesque lakefronts. Dive into this quick guide to discover the 18 best beaches in the States for both dogs and their human counterparts.
EDITOR'S NOTE:
If you're bringing your four-legged friend to the USA, ensure you have all the required
documents, vaccinations
, and any necessary medications. Numerous adventures await you both!
Dog-Friendly Beaches in the USA
1) Montrose Dog Beach, Illinois
For those venturing to Chicago with their dog, the Montrose Dog Beach on the shores of Lake Michigan is a must-visit. However, to gain access, dogs must have a Chicago Dog Free Area (DFA) permit and a registration tag from a local vet, in addition to proof of vaccinations. The beach is fenced on three sides, and off-leash playtime is from 6:00 am to 11:00 pm daily. Amenities include a rinse area and complimentary waste bags, courtesy of the Montrose Dog Owners Group (MonDog), who also kindly ask visitors to contribute to beach upkeep.
2) Jupiter Dog Beach
This leash-free beach stretches for 2.5 miles along the Atlantic in northern Palm Beach County and stands as the largest destination on the east coast for a seaside doggy day out. Though dogs must be leashed from the parking area to the beachfront, multiple waste-bag stations are conveniently located along the path. Ensure your furry friend is well-behaved and accustomed to sharing space with other beach-goers.
3) Coronado Dog Beach, California
Here, dogs can race across the sands or splash in the waves against the backdrop of the iconic Hotel del Coronado. This leash-free haven is situated opposite Sunset Park on Ocean Boulevard in San Diego, California. Street parking is free in the surrounding neighborhood, and a dog wash station ensures easy post-play clean-up. Locally, one can stroll down Orange Avenue or unwind at several dog-friendly restaurant patios in Coronado.
4) Fort DeSoto Park, Florida
Fort DeSoto is a connected five-island park featuring a "Paw Playground" for visiting pets. The area encompasses two grassy dog parks, one large and one small, and a quarter-mile off-leash Dog Beach. It stands out as one of the top destinations for a seaside adventure with your pup in the USA. Fresh water stations and rinse-off showers cater to dogs of all sizes. Additionally, you can leash-walk along the park's scenic trails.
5) Block Island, Rhode Island
Block Island's beaches, 12 miles off the coast of Rhode Island, welcome leashed dogs year-round, unlike many nearby alternatives. Dogs and their owners can explore nearly 30 kilometers of coastline, including stretches of Sandy Crescent Beach and Mohegan Bluffs. Beyond the sands, many eateries, hotels, and attractions, like the Southeast Lighthouse – New England's tallest, welcome furry friends.
6) Jekyll Island, Georgia
This pristine barrier island in Georgia offers nearly 20 kilometers of untouched coastline, making it a stellar US beach where dogs are welcome throughout the year. However, pets must remain on a short leash and not venture onto the dunes unattended. Apart from swimming, you can wander the striking Driftwood Beach of Jekyll, known for its eroded logs and branches. The island also boasts dog-friendly dining options, like Sunrise Grille, featuring a shaded and covered patio.
7) Huntington Dog Beach, California
This beach where dogs can run freely without a leash in Orange County is loved by locals, and is located on a low cliff, away from the Pacific Coast Highway. Dogs must be leashed only from the parking lots to the beach, which is open from 5am to 10pm. There are water fountains, waste bags, restrooms, and picnic tables: in short, everything you need, and also many dog-friendly restaurants.
8) Cannon Beach, Oregon
This coastal town famous for the movie "Twilight" has a beach almost 3 kilometers long. It's a great place to go to the beach in the USA with dogs, provided they are leashed or well-behaved, to swim or walk on the trails of nearby Ecola State Park. However, one should be careful of wildlife like deer and elk.
9) Island Beach State Park, New Jersey
One of the top beach destinations in the USA for dogs on the north Atlantic coast, Island Beach State Park requires dogs to be leashed only for very short stretches. Open from 8:00am to 8:00pm every day, the adjacent park has eight trails that wind through maritime forests, tidal marshes, and rolling sand dunes. However, dogs are not allowed on the swimming beach and it's recommended to bring hydration and waste bags.
10) Emerald Isle, North Carolina
Emerald Isle has a lot to offer its visitors accompanied by their four-legged friends. While they need to be leashed in many areas of the island, here dogs can enjoy about 8 kilometers of fine sandy beach, diving into the turquoise waters of the Atlantic. After a visit to this splendid place, one can stop at Muttingans: a coffee shop that also offers dog toys, organic snacks, and food.
11) Dog Beach at Pier Park, Florida
Among the dog-friendly beaches in the USA, one cannot fail to mention Dog Beach, located in Panama City Beach. The park is open daily from sunrise to sunset and requires dogs to be always leashed. After walking on the white sand, you can visit the nearby Frank Brown Dog Park. There are also three fenced playgrounds where puppies, finally off-leash, can zoom around and meet new friends.
12) Kiva Beach, California
This quiet beach in South Lake Tahoe has excellent swimming spots for both humans and their canine companions. Pets can take a dip without a leash, but will need one when exploring the narrow shoreline.
Waste bags are provided at the Taylor Creek visitor center. After swimming, you can explore on foot the Van Sickle Bi-State Park or make new friends at Bijou Dog Park, a space with grassy play areas where they can run freely without a leash and equipped with washing stations.
13) Tannery Beach, Michigan
This rocky beach on Lake Charlevoix in Boyne City is open to dogs all year round from 7:00am to 10:00pm. The lack of swimmers is good news for pups and their owners, who often have the shore all to themselves, especially in the colder months.
In the summer, the waters, frequented by kayakers, are ideal for splashing and cooling off on a hot day. The park also provides shovels and bags for easy and quick cleaning. A few blocks north of the lake, Ridge Run Dog Park has large and small tracks where dogs can let loose and socialize.
14) Camp Hero State Park, New York
Located at the easternmost tip of Long Island in Montauk, Camp Hero is one of the best destinations in the USA to go to the beach with dogs, with rocky cliffs and Atlantic beaches that humans and their canine companions can explore together.
Dogs must always be leashed but are allowed on all trails, including the Battery 113 route round trip of about 4 kilometers to an abandoned radio tower, which is both romantic and alternative.
DOG-FRIENDLY BEACHES IN THE USA: THE MAP

15) South Padre Island, Texas
The only tropical island in the Lone Star state, South Padre is located between the Gulf of Mexico and Laguna Madre. It's a renowned US beach destination for allowing dogs, which are welcome all year round on its pristine shores.
It's crucial to keep dogs on a leash and ensure that their vaccinations are up to date before the trip, in addition to adhering to the designated restroom and rinse areas at the Malaquite Pavilion.

16) Morris Island, South Carolina
Only accessible by boat, this uninhabited island near Charleston boasts expansive maritime forests and a beach where dogs can roam off-leash, except during the seabird nesting season.
A stroll along the shell-laden shores to get a closer look at the iconic Morris Island Lighthouse, the tallest in the state, is recommended, or one can visit the island with Adventure Harbor Tours: puppies are also welcome on board!

17) Dauphin Island, Alabama
Among the US beaches suitable for dogs, Dauphin Island stands out, featuring wide stretches of peaceful coastlines where pups can have fun. However, dogs must always remain on a leash, and West End Beach is off-limits, being a bird nesting habitat.
For an up-close view of migratory birds, one can head (sadly, without their four-legged friends) towards the Dauphin Island Audubon Bird Sanctuary.

18) Fort Funston Beach, California
Dogs can roam freely off-leash on this rocky beach located on the southwest coast of San Francisco, just south of San Francisco Zoo. The panoramic ocean views will astonish all who visit. One just needs to be cautious about swimming, as surfing and high tides can sometimes be hazardous.
Going to the beach in the US with your dogs can be a beautiful experience. All that's left is to refer to the addresses provided in this short guide and get ready for the adventure!
COME TO THE BEACH WITH YOUR DOG
US BEACHES - DOG FRIENDLY - PHOTO GALLERY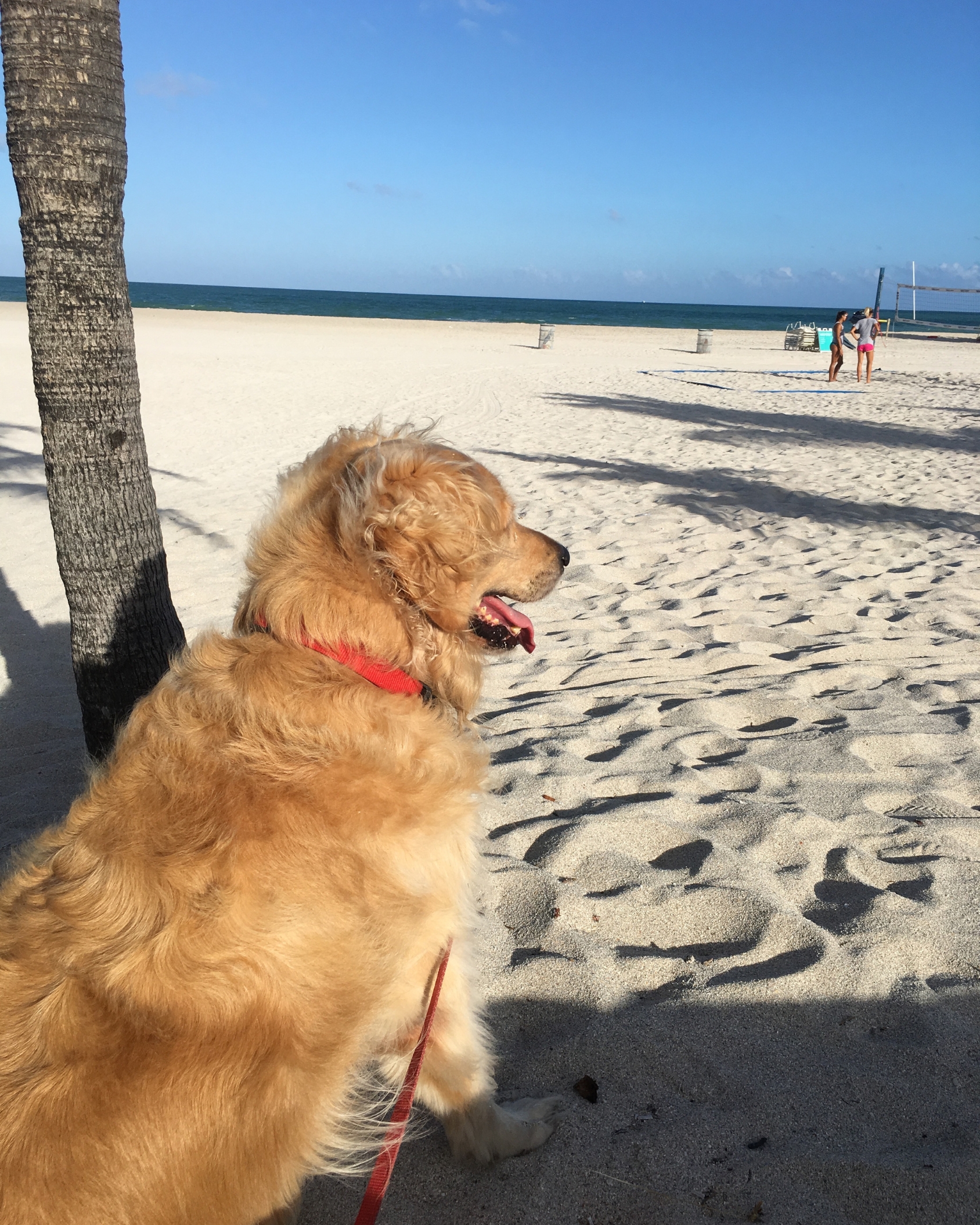 ---
THE ON THE ROADS OF THE EAST COAST
FOR YOUR BEACH HOLIDAY CHOOSE FROM OUR OTR ITINERARIES