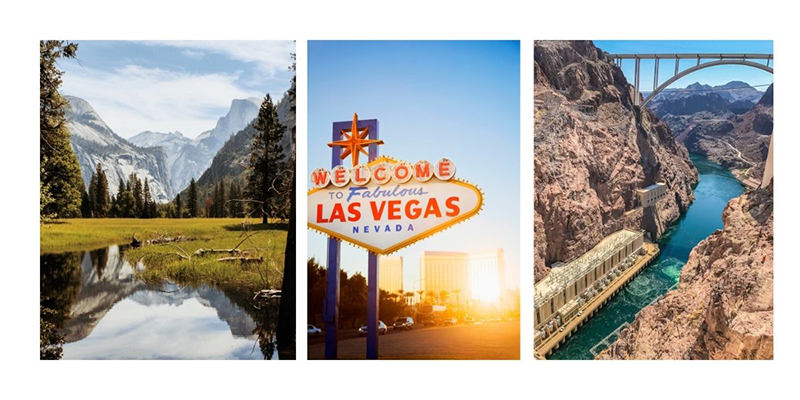 We'll leave San Francisco behind by the early evening just in time to admire the beautiful Skyline lighting up from the Bay Bridge. The tour will continue towards
Yosemite National Park
where will spend one-day exploring Waterfalls (here the Yosemite Falls is the tallest in the States), Mountains, Lakes and Glaciers including a brief walk by The Visitor Center to admire some of the best sights this park can offer including the
Bridal-Veil Falls
,
Half Dome
, and
El Capitan.
A full day immersed in Mother Nature.
* Please note that due to Winter Weather, heavy snowfalls and extreme conditions, we cannot visit Yosemite in the late fall/winter/early spring. During this season, we will opt instead to visit the historic and quaint town on Monterey, California famous for its historic Wharf's and Main Street.
The second half of the Tour will take us towards the deserts including the Death Valley which we'll cross to enter in the state of Nevada. We will spend one night in Las Vegas where you will have the chance to try your hand at the casinos or simply enjoy all that Vegas offers including restaurants, shows, attractions and more. We'll conclude the Tour visiting the popular Hoover Dam where not only we can admire some of the oldest rock formations found in the US but also learn the history of the Dam and understand how the territory changed due to its construction. We will then head towards Los Angeles for a late afternoon/ evening arrival.